Have you ever wondered how to decorate the table? We want our table to be original, beautiful but also practical. Therefore, one of the best options is to incorporate a centerpiece. No matter what time of year it is, we are going to show you the best centerpiece ideas for wedding, communion, christening, birthday, with balloons, candles, flowers and steps to make our own centerpiece. Discover the most original table centerpieces of this 2021!
Perhaps the best option, on top of a good menu, would be the ability to have a centerpiece that is elegant and creative. In addition to that, you can also serve a party or prepare a special dinner. It is always important to take into account in these occasions the style that we want.
Today we want to give you ideas to decorate your event with the images of the best centerpieces. In this article you will find examples of different types of centerpieces for various occasions.
Wedding centerpieces
One of the happiest days of our lives is our wedding. This day we want everything to be perfect and in order to do so there are elements that play a very important role, one of them are the wedding centerpieces.
We are going to show you the best table centerpieces according to the style that you like the most for your wedding, that is to say, centerpieces of rustic style, vintage, shabby chic and on the beach. Come with us!
Tablecloths for rustic weddings
The rustic weddings are very successful, are usually held outdoors and are decorated with natural and country elements such as wood, stone and flowers. In order to decorate modern weddings, which are different from the classic ones, you have to follow the natural aesthetics.
Wooden pots, flower bouquets in glass vases with a classic look, metal cubes, centerpieces with trunks tied with ropes….
You will find all the ideas and examples for rustic wedding table centers in the following gallery of images.
Vintage wedding table tops
Vintage themed weddings are very beautiful and more and more couples are betting on them. Depending on the style you have, you will find the best ideas for vintage wedding centerpieces.
The centerpieces give a different and original touch in the decoration. If you want a vintage wedding you can put glass bottles, recycled containers, colorful stills and flowers or colorful books and flowers.
In the following photo gallery you will find the best table centerpieces for vintage weddings.
Wedding table tops shabby chic
The shabby chic style is the latest fashion that combines rustic elements with vintage elements, which reminds us of fairy tales.
Shabby chic wedding centerpieces are perfect for the most romantic couples where cream, white and pastel shades prevail in flowers, tablecloths, books, cages, boats, vases…
If you want to take a look at how the shabby chic wedding table centerpieces are, we leave you this photo gallery.
Beach wedding table centers
Many women dream of a wedding on the beach in an idyllic paradise among crystal clear water, sand, outdoors and the smell of the sea. But the best way to decorate the tables in this case is with marine centerpieces decoration.
Centerpieces with the typical colors and objects at sea and the marine world. We recommend candles and white stones, lanterns on stones, floating candles, fishponds with marine elements (sea stars, shells…) and beach sand, messages in bottles…
There are many more centerpiece ideas for weddings on the beach so that the celebration is based on the sea and the underwater world. You will find them in the following gallery.
Communion table centers | First communion
The moment your children make their first communion is a very special one. A moment that will never be forgotten. After having received the sacrament it is customary to celebrate a meal surrounded by family and friends.
It is usually divided into two environments, adults and children, with fun activities with games, clowns and attractions.
There are many elements that we can use and choose to decorate tables, both children and adults.
Let us show you the best ideas for first communion centerpieces such as glass containers. For instance, in order to have a more romantic decoration the best idea is to put a spike as a centerpiece; for the most fun tables the centerpieces can be full of sweets, balloons …
In the next gallery you will find all the ideas for communion table centerpieces, according to your taste and style. If you want to know more, click on the next photo gallery.
Tablecloths for baptism
One of the most important celebrations is the baptism. There are many details that we have to take into account to make everything perfect, so we advise you to organize the baptism with time.
Among all the details, one of the most important requirements if you want to be original is that you decorate the tables with baptism related centerpieces.
We are going to teach you how to do the best table centerpieces for baptism so that the celebration has a more personal and original touch, based on your taste.
The colors tend to be soft because the babies are the main characters. Depending on the child being a boy or a girl, the centerpieces will be of one color or another. However, you must kow thar currenlty the color pink is not associated to a girl and the color blue to a boy. The skey ornaments are usually several glass vases filled with flowers, colored stones, balloons …
You will find more examples of centerpieces for christening both boy and girl in the following gallery.
If you want to know more about the ideas of centerpieces for baptisms, click on the following link: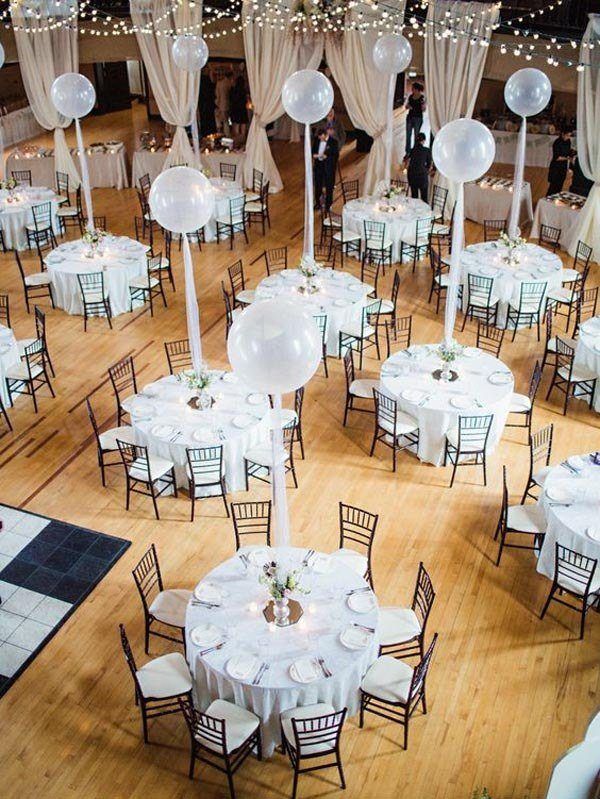 Depending on the event you are celebrating the colors of the balloons will change, although it is also fashionable to combine several colors.
Not only colors, they can also carry letters, phrases, numbers, figures, glitter… Without forgetting the shapes that do not have to be the classic ones.
If you liked balloon centerpieces you can not miss the next gallery with the best ideas with balloons in different colors and shapes. Come join us and celebrate an original and fun party!
Flower centerpieces
Flowers are always the first choice for centerpieces, their fragrance, beauty and fragility make them a perfect natural element for any occasion. In addition, you can combine them with other types of elements and achieve a different, unique, eye-catching centerpiece.
If the choice of flowers is very expensive, you can always change it by other natural elements that you can find in the field such as pine cones, pine needles, ivy, leaves of different colors and sizes or dry branches.
An example is the table center that we share next, an autumn mixture, which contains acorns, leaves, fruits… It all depends on your taste and how creative you can get.
In the next gallery you will find more ideas for flower centerpieces, in all colors, shapes and styles for you to choose the ones you like the most.
Candle centerpieces
Instead of putting fruits you can also put candles, getting a completely different effect. The base of this center could be the same, leaves and elements of the forest. If you do not have one near you can find dry leaves with aromas in any store that has a decoration section.
There are many possible styles of centerpieces with candles, they do not have to be the same. Depending on the type of celebration we will put a different centerpiece with a different style, putting your personal touch with the candles.
The latest trend is the floating candles, which in centerpieces look very nice, elegant and different. It can be combined with different elements inside the containers like flowers, stones…
You can also change all the dried leaves by a very particular and aromatic table centerpieces of natural form using aromatic herbs (rosemary, mint, sage, basil) you can use it as part of a table centerpiece, besides being beautiful, the centerpiece will make the environment better.
You can also use cinnamon sticks mixed with flowers, apples and candles. This is a sensational and creative mix that combines colors and smells. All you have to take care of is that they are visible and also perfum the table with a very sweet aroma.
If you want a still-life style centerpiece, you can combine seasonal fruits like nuts, apples, pears, lemons, ivy, holly and other plants. You can create a very nice fruit centerpiece.
If you want a scented centerpiece that has a pleasant aroma and you are a fan of cinnamon, you can do great things with centerpieces. You can prepare sachets with cinnamon sticks and place them inside a table centerpiece, which is something similar to what we saw in the following article: how to do a Christmas wreath.
Birthday centerpieces can be completely different from the ones we have named above or you may also continue to bet on the natural elements. It all depends on the style of the birthday party, the age of the birthday boy and the type of party you want to celebrate.
A fun and very sweet option is to place a centerpiece full of candy and sweets. In the photo that we show you there appear clouds but you can create your own Christmas centerpiece with the sweets that you like the most. Gastronomy is also important!
If you are the birthday boy and have been given some flowers, do not hesitate to use them as a centerpiece. On the one hand, you will be showing off such a beautiful gift and, on the other hand, you will be getting a fresh environment that you can look after.
You can take advantage of this to combine the birthday decorations with the colors or the shapes of the flowers, as we showed in the previous photograph.
Another option to put natural flowers is a large water vase like the one we see in the photograph and add small floating candles as well or a big candle, as the one that appears in the photo.
You can also choose to combine flowers with other elements that can turn your birthday table centers into something much more original and even fun. In order to do so, we just have to start by looking for the perfect container or vase, because this will make the centerpiece much more impressive.
Look at the table center that we show you here. Its combination of colors makes it totally cheerful and striking but, the most original touch and the reason why this centerpiece is unforgettable is because the vase is a watering can. This centerpiece is perfect for an outdoor birthday celebration.
Centerpieces for 15th birthday party
One of the most important birthdays in our life is when we become 15 years old. This is the moment when girls are introduced in society as women. Thus, we can say that 15 is the transition from being a girl to becoming a woman.
That party is important for any woman and it's only logical that we'd want everything to be perfect. The decoration, like in every kind of party, is very important. For that reason we are going to show you the best ideas of centerpieces for a 15th birthday party.
We will choose the centerpieces taking into account the style of our party, where is taking place, the colors of tablecloths we've chosen, the napkins, the cutlery…
There are as many styles when it comes to table centerpieces for a 15th birthday party, as you can imagine. However, we hope in this article you will find yours.
So that you have the full range of centerpieces for 15th birthday parties, we leave you this gallery:
How to make centerpieces | Step by Step
You've surely thought many times of making your own centerpieces because you have great ideas to make your table look original, special and beautiful.
In this section we will explain how to make table centerpieces step by step so that you can decorate your tables yourself.
Elegant table center: step by step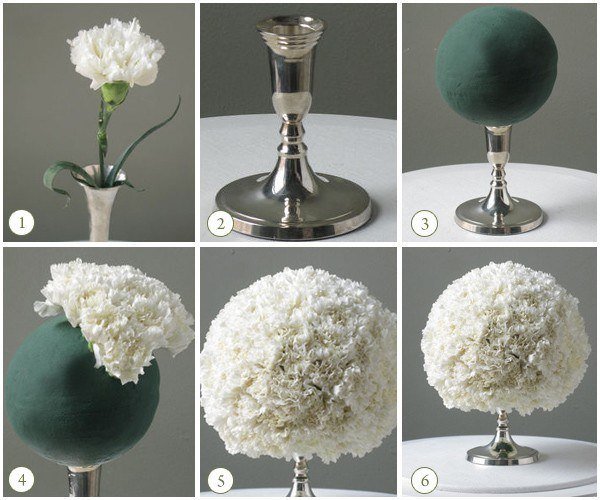 In certain stores you can find mossi, an ideal material to prepare flowers and plants and that can also retains moisture. If you have bought a flower centerpiece or any ornament of the sort, it is very possible that you have seen it.
To make your centerpiece at home you can use some source, basket or container you like, fill it with mossi and then create the centerpiece by cutting flowers, branches or leaves of a longer size so that when putting them inside are not the same size, generating a sense of volume and dimensionality.
The color of the tablecloth, the tableware, or the wall of your house can be useful when it comes to create an elegant centerpiece. You can do it with the color that you like, from the neutral ones that tend to the elegance and sobriety, to the most striking ones as to generate a festive atmosphere.
Centerpiece for a party: step by step
We should also think about children's parties. We can make centerpieces that are as original and simple as the one we see in this picture.
Use containers such as glass jars that you can use again or vases.
Fill up the candy canes, up to three fingers: lacasitos, M & Ms, fruit candy or any sweets you want.
Stick a huge lollipop in the middle.
Cut colorful napkins in half, fold the cuts and stick them on the top edge of the boat.
You might also find interesting the following about flower centerpieces:
Table centerpieces with natural flowers

Decorative elements for table centerpieces
Decorative Stones: In certain stores you have less than 2 € stones that imitate jewelry, in different colors. You can use a glass or vase where you've previously added decorative stones. The result is spectacular. The minimalist trend uses simple table centerpieces. Tall or low containers with nuts, apples, lemons along with candles, can give color to your table.
Conventional and floating candles can be used to put around, giving a sophisticated look. You can even make your own center with flowers and water, as in the following image.
Gelatin granules. In nurseries and retail stores there is another decorative product that consists of granules that get into the water and double in size, transforming into a kind of colored gelatine that you can use put inside vases or transparent centers. The transparent color imitates the diamonds, the green emeralds. You can even mix two different colors.
Summer centerpieces
If you have never put a centerpiece at home or in your garden during summer, you've surely noticed that in some restaurants or cafes they usually use table centerpieces both inside and in the terraces. Have you realized what a great feeling that is?
Small elements can make our experience in a certain place much more pleasant and welcoming, so do not hesitate to create your own table centerpieces, also in summer, betting on the flowers and plants that are most common during that season.
Roses, dahlias, hydrangeas, wild daisies… Summer gives us the opportunity to enjoy wonderful flowers that can become part of our centerpiece. Look at the photographs that we have brought so that you can create your own centerpieces. We hope they will be your source of inspiration.
As we mentioned before, you can combine, inside the centerpiece, other flowers with decorative elements that will accompany such flowers. You can focus on these element as well. Think that there must always be details that make the centerpiece we have created shine even more, that draw more attention but that don't convey a negative image.
It is also an opportunity to get creative by making crafts, to recycle a little bit and come up with original vases, some simple as these boats but you can also give them touches of painting. Or you can add a simple touch, such as a bow or a stem of a plant that you can tie around the can. That way you'll have a vase carefully made by yourself and personalized.
For summer tables you can never miss a candle that creates that magical and romantic atmosphere. One option is to use a vase that is not very high, or even a wide glass. There you can place decorative stones as a foundation and put a candle of a light color like blue, green or pink, and that can also be scented.
In summer we also find lavender flowers. Moreover, in some places you can still find heather and flowering rosemary. Their colors can vary and the aroma is spectacular. Thus, they can be a perfect way to create an ideal centerpiece.
Christmas table centerpieces
When Christmas arrives there is this feeling of joy most of the houses are filled with. We can also feel this while being at our table through the decoration. The decoration for this time of the year always consists on beautiful Christmas table centerpieces.
The ideas that first come to mind are many, but we suggest you choose all of them: candles, moss, pineapples, and other natural elements and colors that are highly linked to this time of the year.
We consider elements to decorate a table at Christmas a nice tablecloth, glassware, special tableware and centerpieces. These are the final touch to give your table that fascinating look that evokes encounters, toasts and happiness in a few days that are so special.
Whether these elements are flowers, ornaments that have to do with Christmas or candles, they will all give their special touch to a celebration that is perhaps the most important one for familias and that will be useful if we want to make the Christmas spirit to be felt so much more.
Perhaps the most typical or traditional is the centerpiece that has pine branches or branches of mistletoe. You can't forget to add a candle and some other detail like pineapples or a Christmas wreath. These can be found in stores that specialize in decoration before Christmas but we can also try to do them ourselves. It is simple and we will save some money.
Look at the traditional centerpiece above. Although you might think it's too elaborate it is actually very easy to do.
Materials you will be needing: mistletoe or pine (you can find plant remains in any Christmas market), red candles, pine cones that you can paint with glitter or snow spray. For the base we can use a tray, a plate or any bowl.
The key will be to fill it well with pine so that we can't see anything and then place the two red candles in the middle. The pineapples can be glued and you can also add some flowers or a red bow if you want. You will see how beautiful your creation is and you will realize that it wasn't that hard to do.
On the other hand, if you want Christmas centerpieces to be original, you can choose a centerpiece such as one that's been made with some tree ball ornaments for Christmas that were left after having decorated the tree. You can choose to place ball ornaments of different colors or similar and warm shades.
Candles are perhaps key ornaments when it comes to this kind of centerpieces. If you want you can follow the following piece of advice: it's better to choose to place white, red or gold balls and not to mix other colors. The best option will always be to add two or three balls on a mistletoe or pine base, so it won't look like there are too many things on the table.
In espaciohogar.com we've tried to give you the best ideas for centerpieces both throughout the article and now in this video that we have created for you. We hope you will get inspired in order to make your centerpieces:
Here we leave you articles you might find interesting in Espaciohogar:
If you are looking for more information about centerpieces we leave you with these other related articles that we hope you will find interesting: