When it comes to Christmas decorations we have to focus and give our undivided attention to the matter, because Christmas is almost here and we bet you want us to give you the best ideas to decorate your Christmas tree this year.
We will be focusing on the latest trends. We will be telling you just how much the following colors are trending: white, silver, deep purple and see through ornaments such as jewels. However, we will also focus on the traditional ornaments in red, green or plaid. Here at espaciohogar.com we will be sharing everything that can be Christmas tree decorations related with you.
Up next, we will be sharing some ideas regarding Modern Christmas tree decorations. Moreoever, we will later on give you decoration tips for your Christmas trees.
Modern Christmas tree decorations
In order to decorate a Christmas tree, we only have to take into account the following aspects: the tree must be beautiful and perfect for our house, it shall convey perfectly the Christmas spirit their is in our house and it should be fun for all the members of the family. Having taken into account those parameters, let's take a look at Christmas trees decoration ideas.
We can choose two different styles when it comes to Christmas tree decorations. We have a choice betwen something more colorful and full of details and ornaments, or something more sober and elegant with few different colors and simpler. Depending on what we choose, we must follow one out of the two suggestions. In fact, this depends solely on our personal taste.
Although the classic Christmas tree decoration is based on many flashy colors, with many bright colors and lights. We can also see in past years other decoration trends that align the style of these trees to the very same style decoration in our home.
There are some advantages and some, let's call them, drawbacks regarding these two ways of decorating the Christmas tree. In the first one, full of color and ornaments, in an overdressed and flashy style, which can be an ideal option for those of us who have children at home. For them it is much more fun and we can also think of the decoration of the Christmas tree as an DIY activity that we can do together as family.
However, one disadvantage of choosing a style decoration, such as the one we can see above, is that it will take longer to put and remove the Christmas tree. Moreover, it will not suit very well with the decoration of the rest of the house, giving it a bit of vulgarity, although in a more welcoming and classic way.
On the other hand, if we choose to make decorations simpler and sober, we also have advantages and disadvantages that we have to take into account to know the good and bad aspects of this type of Christmas tree decoration.
One of the best things to have a simple decoration is that it takes us less time to assemble and remove the Christmas tree every year. This will definitely save us a lot of time. We also make the Christmas tree do not stand out so much among the decoration of the home, so it is aesthetically more suitable for our home.
Another good thing about using fewer ornaments when putting together the Christmas tree decorations, we can change them more easily when we get tired of the colors we have used and we will not spend that much money.
On the other hand, this type of Christmas tree decoration is usually more boring for children who want to fill it all with different colors. So if you have children at home, it is best that you choose another type of style more relaxed and fun so that they can fully enjoy these festivities, since they are the main stars of the holidays.
Another thing we also have to bear in mind when it comes to decorating our Christmas tree is that not everything has to have the same shape, be the same color, have the same lights or be the same size. Depending on the needs of your home, you can choose one Christmas tree format or another.
We must first decide whether we will have a real Christmas tree or an artificial one. Both types of Christmas trees are also a greatly influence when it comes to decorate our Christmas tree.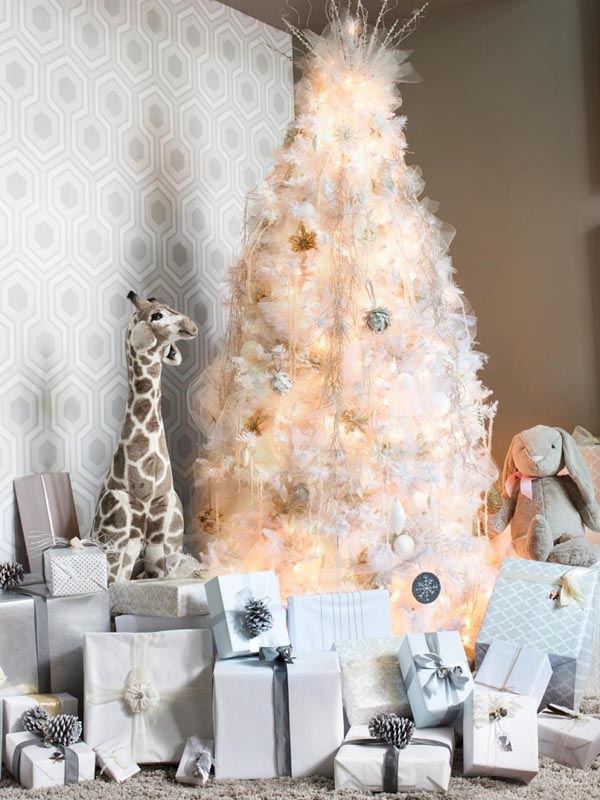 If we have a real Christmas tree, we can choose to decorate it with a nature theme decoration. For example, recently the decoration of real Christmas trees with flowers and bouquets in the shape of Christmas baubles and Christmas stars has become very fashionable.
If you want to know how to make Christmas stars, which are a very original choice to decorate the Christmas tree, we recommend you take a look at this article:

In addition, we must bear in mind that for this type of trees it is better not to buy decorations that are too heavy to decorate, since their branches are weaker and can break them or make them appear more fallen, which gives the impression that the Christmas tree is old and damaged.
On the other hand, if we buy an artificial Christmas tree, a decoration inspired by nature might end up being a little bit strange, since it would highlight too much the plastic branches that this type of trees bring. But the advantage is that we can put all kinds of ornaments because their branches are very sturdy and always look good.
Up next we will be talking about the necessary or classic elements when decorating Christmas trees. Among them, the tinsel, the Christmas baubles, the Christmas socks, the lights of the Christmas tree, stars, snowflakes and other dolls that can help us decorate the tree.
We will begin by explaining the Christmas tinsel as a typical accessory of Christmas trees decoration. We can find them of many types, forms and colors but always surrounding the tree completely from the base to the cusp.
The tinsel is usually bought by matching some color with the baubles that we are going to place in the Christmas tree, although we can also see bicolor combinations. For example, the silver colored tinsel and the baubles in electric blue.
So it is also possible to place different color tinsel in our tree. For example, we can combine a tinsel of one color that covers the tree, another tinsel of another color. Or we can use a color in the base and another color in the cusp. Now we can also find tinsels that have more than one color throughout them, even creating color gradients. This will depend on the type of decoration we want in our Christmas tree.
Also we can place two tinsels of different colors so that they are intertwined and they are blended along the whole tree. For this idea it is better to choose colors of the same range so that they do not create too strong of a contrast.
Another essential element of decorating Christmas trees, are Christmas balls. Here we are going to give you some tips and tips to choose the color and the appropriate shape of the balls of your Christmas tree.
If you want to know more about Christmas baubles, here is a very useful article:

Christmas baubles can be made out of glass or plastic. Glass Christmas baubles usually look better because their colors and details are better, but they are also more expensive and we risk breaking them. Although it should not happen if we are careful and keep them between newsprint for the Christmas tree decorations of next year.
On the other hand, although plastic Christmas baubles are of worse quality, they are also cheaper and it is very unlikely we will break them. In this way, if we do not want to spend money they are perfect for decorating Christmas trees and we can also change them more easily if we get tired of looking at the same colors each year.
As for the shape of the Christmas baubles, they can be larger and smaller as well as not necessarily having a round shape. Christmas tree decorations can be made with Christmas baubles of different sizes and shapes to give an eclectic touch to the tree, but we can also choose some original Christmas baubles and use only that type of ornament for a more modern and elegant decoration.
For Christmas tree decoration we can also use Christmas socks. Although these are usually hung on large size fireplaces, we can also place some smaller socks hanging from our tree. To do this, you can tie a small string and tie them to the branches.
If you are interested in learning more about Christmas socks, look at this article where we give you many ideas to make your own:

A very important element when decorating Christmas trees, too, are the lights. The lights give a different touch to our Christmas tree and make it much more flashy and festive. Keep reading to discover the best Christmas light tips.
The first thing we have to decide is whether we want the lights to be more discreet or to be eye-catching and draw all the attention from the Christmas tree. Depending on what we want, we will have to choose larger or smaller Christmas lights for Christmas tree decorations.
We should also choose between lights of various colors, lights that only have a color (such as yellow or orange light). We can even find Christmas lights in colors like red or blue. Keep in mind that many of these lights that we buy have different modes we can choose when turning the lights on. In many cases we can actually choose the normal light (yellow) or the different colors.
To place the lights among the Christmas tree decorations, we need to place the tree near some plug that we have at home. Therefore, first we recommend you measure the cable that puts them together and check that it arrives perfectly to the power, because moving the tree with all the ornaments is heavier and something might break.
After you have assembled the tree (or simply bring it home if it is a real one) the first step would be to place the lights. The reason is because these should be the element placed more inwards of the branches, close to the trunk so that from a distance the light is emitted but not the form.
Although this is only when we buy the classic lights with the small bulb format, since its shape is not too pretty and it is better to be clogged leaving only exposed the light that they project. However, now we can find all kinds of lights, with different and very beautiful shapes that can be used as a motif. Very original are those that have a snowflake format.
After placing the lights, we can place the rest of the Christmas tree decoration elements. Remember that you should not always have lights on because of the energy consumption they produce, as well as some risks that exist if they get too hot, especially if we are talking about a Christmas tree.
We recommend that you turn on the lights only during the important moments of the holidays, such as Christmas dinners. Likewise, buy lights that have a saving mode option. This is an intermittent lights flashing, which consumes less and do not heat the bulb so much.
Another classic product related to Christmas tree decorations, are the Christmas stars. These have an interesting history as to why they are placed in the Christmas trees. The starts allegedly have a meaning that comes from a Christian origin, being a star the one that guided the Three Kings from the East to the portal of Bethlehem where the baby Jesus was born.
We say that it is still curious because the Christmas tree is a pagan tradition that comes from the Greeks, then the Celts and later the English. In ancient cultures spruce branches were used to ward off evil spirits, nothing to do with the Christian origin of the Christmas stars.
However, it is currently very common to use Christmas stars in Christmas trees. These can be placed all over the tree as a hanging ornament or we can also place a big star at the top.
Perhaps, out of the two decorations that we suggest, the most Christian and that makes more reference to the birth of the baby Jesus for Christmas Day, is to place the star on the cusp. We do this because it represents better how the star guided the Three Kings.
Another truly demanded option, regarding Christmas stars, to decorate Christmas trees, are those three-dimensional stars. If you want to learn how to make yourself a three-dimensional star for your Christmas tree, you have to read the following article:

Up next, we will be taking a look at some examples of tree decorations. You can find ideas to decorate simple Christmas trees, or with more decorations, one color, two colors combined and all styles you can imagine. Take out the notebook and start taking notes!
For example, in the photo above, we can see the perfect idea for a children's room. Children will love it! The key to the decoration of children's Christmas trees is to use a lot of color. It also has to be smaller than the classic tree so they can decorate the tree by themselves and place the ornaments wherever they want.
We can also choose a more elegant and sophisticated Christmas tree that can help bring the Christmas spirit to our house but that also doesn't clash too much with our decoration. If you like this idea more, all we have to do is decorate everything with the same color and with decorations that are not too big.
If you do not want to spend too much money on buying an artificial or a real Christmas tree, you can also resort to recycling some things that you have at home or that you can find without spending your money. For example, the tree you see in the photo above, is made entirely of dried branches.
If you want to know more about Christmas trees with recycled materials, we recommend the following article:

This Christmas tree decoration that we see in the photo below represents very well the Christmas spirit by using the red color (the Christmas color par excellence) and the white color, which is imitating a snowy Christmas tree. In addition to that, it is the classic Christmas tree decoration of the malls at this time of the year.
If you like the classic style of Christmas tree decorations, like the ones in this tree, you can imitate it. The key is to choose two or three colors that we like or combine with the decoration of our home and buy all the decorations in those colors. The more ornaments the tree carries, the more it will look like the classic Christmas tree we see in movies.
But if you'd rather see a more modern idea because you are tired of the traditional Christmas trees or you want to change the style of your home during those days, you can get a tree like these ones below: in a different color. To get away from the classics, buy the ornaments in colors that are as typical of Christmas as pink or turquoise.
A color that combines in any tree and that can't be forgotten in the decoration of Christmas trees, is the color gold. For a simple decoration, buy a traditional green tree and put some Christmas baubles in gold. If you choose different shades of gold, it will give more movement to the tree and will look better.
Regarding the decorations that you are going to choose for the Christmas tree decorations, we recommend you take a look at this one that we see in the photo below. These are not typical ornaments, but they have different shapes (heart, diamond, angel…) and make the Christmas tree more colorful and modern. Try new things!
Ribbons are also very important at Christmas as we see them on all sides: decorations, gifts, table settings… So it can't be forgotten while decorating the Christmas tree. The classic Christmas ribbons are red, but you can also place them in gold or silver and they will look just as beautiful.
This Christmas tree decoration is also particularly beautiful. The silver color stands out a lot against the dark spruce green, which reminds us of the characteristic cold Christmas weather, in winter. It is also very simple and refined.
Although this Christmas tree decoration is a bit risky and very different from the one we are used to, it may be a good idea for a small tree in the kitchen or even for a restaurant or to set up a dinner at home. To make it really nice, choose classic utensils. To make some classic utensils you just have to dye some normal gold and scrape them, a bit, with scouring pad to give it a worn out effect.
Lastly we wanted to remind you that if you the Christmas tree of your choice is a real tree, you have to keep in mind that its branches are not as resistant as the Christmas trees that are made of plastic, so the decoration of real Christmas trees is usually based on lightweight ornaments.
After having seen a few decorated árboles de navidad, we now leave you some suggestions to decorate your Chirstmas tree perfectly.
Colors to use for Christmas tree decorations
Before Christmas arrives we will be sharing with you our suggestions to decorate your Christmas tree. If this year you want to decorate the tree in a different way, surely you will find some ideas here. We will be needing a lot of silver and white colors, as if it were snowflakes on the tree. However, we will also be seeing many trees with decoration in blue shades.
Hanging ornaments, stars, baubles of these colors are trending so you can start buying them. This type of trees look great in salons or spaces decorated with a style that is modern, or even with a minimalist style that is currently quite popular.
On the other hand, a lot of trees that are very "homemade" have become popular.For trees that have a marked retro character we can choose colors such as brown or ocher. These colors- mixed with gold and metallic-finished chrome, aluminum, silver- add luminosity and are fashionable when it comes to Christmas decoration.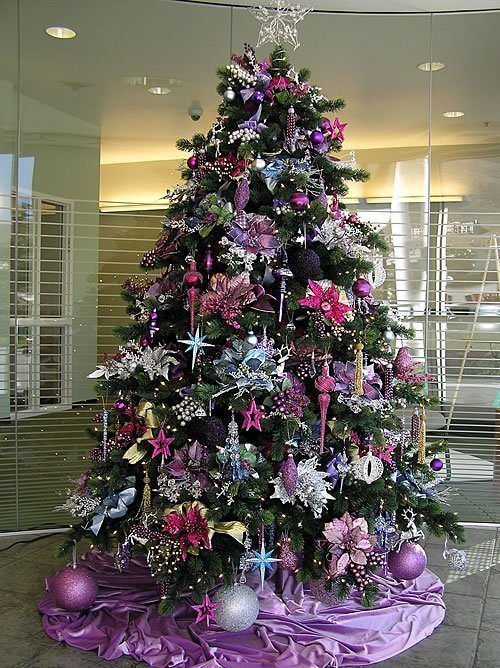 From white and silver to vivid colors. The color purple, mauve, combined with white or silver ornaments, are also a current trend. The color is perhaps the great innovation of this year as far as tree decoration is concerned and it can look great if at home we have a modern decoration or even a minimalist decoration.
In the photo above you have a tree decorated differently using colors purple, yellow, blue and white. Another addition to this decoration can be a Christmas wreath, where the ribbons that were used are the same color that the tree decorations. It is also quite popular the Christmas tree decorations in pink, magenta and yellow shades. The Christmas tree would be the core element, whereas the lamp and the table would be decorated in the very same range of colors.
In the tree we can place, for example, ornaments of red flowers imitating the Easter Flower. In the lamp a nice chain necklace type in pink with ornaments of the same color. The rustic wooden table filled with flowers in pink and red.
Sometimes we just can't decide and suddenly we want a tree that represents a traditional Christmas and at the same time a modern one. You can get both options if you bet on basic colors that but at the same time risk it with the latest color trends like white, red and gold. That is why we now choose the ornaments and shades in red, which can not be forgotten on your Christmas. By the way, all the decoration you see in this image above belongs to the new Christmas decoration of Zara Home.
Ornaments and garlands for the decoration of Christmas trees:
Regardless of color, we can not overlook the ornaments that will hang from our Christmas tree. Ornaments that we can buy or that we can make ourselves like this pretty pigeon ornament made in felt.
Nor can we forget the stars at the cusp of a Christmas tree that we will be seeing in detail up next. Or we can also hang from the tree pretty pineapples such as the ones in the picture above. Natural colors, such as green, red and brown, which can create a decoration with a rustic touch while still being elegant.
You can also bet on decorations that are traditional, such as the pineapples we have seen before and the baubles we will see now. However, you can also choose ocother ornaments that are more original. For example, we have hanging ornaments that represent all kinds of shapes that have to do with Christmas and, among these, we can highlight the ones you see above, again from Leroy Merlin. Don't you agree they look nice?
How about hearts? They are also fashionable for the Christmas tree decorations so you better not forget them. You can bet on those that are rustic, like this one made of wood, for example.
If you like the original decoration, a "snowy" Christmas tree, if you have a minimalist living room in black and white or gray colors, the decoration results can be beautiful and with very little ornaments. Next to the white tree there is another photo of a classic Christmas tree but decorated with white and silver ornaments that combine with the rest of the decoration in neutral colors. On the other hand, we can not forget the traditional baubles while decorating our Christmas tree. We want to address a special section for this.
I do not want to forget the garlands (or tinsels) as they are always essential in any Christmas tree. Of course, it seems that they are not as popular. However, if you want to place some tinsels it's better to choose those that appear in shades like silver.
Baubles in the decoration of Christmas trees
Baubles are essential in all Christmas trees. Colors like the ones mentioned above (golds, ochres, metallic, blue) are quite popular but also, if you have to choose one with which you hardly need much more to decorate, we would certainly recommend white baubles. In Leroy Merlin they have white baubles with bright motifs like the ones you see above.
The most classic Christmas trees are the ones that never go out of style. Decoration in shades of red, green, gold and white would be nothing without the traditional Christmas baubles. If you are looking for the ones that are the most popular this year you can also bet on certain colors but with details like the ones that we see above.
In fact we recommend that you make baubles like the ones you see here. A selection of different colors that will make your Christmas tree take shine brightly.
The baubles in gold are also the way to go to at Christmas, but in addition this year they are carried very much in combination with other hanging ornaments or decorative elements that can be of an ocher shade. Try to hang baubles of different sizes and you will see how your tree takes on different dimensions in itself.
Anything that is baubles in matte yet bright shades, will also rock this Christmas. That way we can buy them in the color that we want but always making sure that they have details like the ones we see above (drawings, stripes or what we've already mentioned, which is the matte effect or the brilliant effect that we can achieve with glitter). This will make your tree the most modern of all.
Stars that can be the icing on the cake regarding Christmas tree decorations
In particular, we want to talk about the Christmas stars. Not all stars are the same and, among them, we can actually find trends that adjust to the current style. Doing so, we can choose, for example, a star in a gold or bright shade and that will allow you to put the star on the cusp and be closer to the classic Christmas tree, unlike the ones we've mentioned before.
If you are a fan of snow and tradition, you can choose a white star, perhaps with some detail in gold, or perhaps even see through. With a star like the one you see above, your Christmas tree will stand out like never before.
For those of you who prefer a decoration that can be considered as original or modern, there is nothing like stars in striking colors and even with polka dots. You should know that you will find all these stars to crown your Christmas tree in Leroy Merlin.
Here we leave this article that you might find interesting:
Tree decoration photos
We have already talked about different decoration ideas, so let's see many more photos about it. With decorated trees and ornaments you can hang this year.
Attribute 'ids' is necessary
Christmas tree decorations video: