Christmas 2018 is just around the corner and we definitely want to decorate our house and the workplace with a beautiful Christmas tree. However, we want this year's tree to be different, that is, we want an eco-friendly Christmas tree.
This is why we've gathered the best suggestions for eco-friendly Christmas trees, of different shapes and colors, just using materials that we can find at home and that we que can access at any. Let's get started!
Eco-friendly Christmas tree: More than 50 ideas of Christmas Trees with recycled materials
To make these Christmas trees you can use any recycled material that you disregard daily, such as DVDs, CDs or cans of soft drinks.
Download our FREE app to have all the Christmas recipes:
Download our Christmas recipe app for free
Recycled Christmas tree made with  soft drink cans
Do you have soft drinks cans at home? Do not throw them away because they can be used to make a recycled Christmas tree. If you do not have enough you can always ask your neighbors to save those cans of soda that they are consuming for you. Ain't this a great idea?
Recycled Christmas tree made with CDs or DVDs
We all have CDs and DVDs stored at home that we do not use. If you do not know what to do with them, we give you the solution!
You can use them to make a magnificent recycled Christmas tree. Of course it does not have to be as big as the photo but it sure looks great in the right size for your house. A most original Christmas tree!
Recycled Christmas tree made with wooden logs
This Christmas tree is a little more complicated to do. If you live near a forest or field, you can go out and collect small logs or branches to make this beautiful Christmas tree.
It is a perfect activity to do or share with children.
Recycled Christmas tree made with rolls of toilet paper
Something as simple as toilet rolls or kitchen rolls can turn into something amazing if you let your creativity out, resulting in a spectacular Christmas tree.
If you want another Christmas tree option, see how you can glue each roll of paper and join them all with a red ribbon and, to make it brighter and brighter, you can insert a decoration ball into each of the rolls.
Recycled Christmas tree made with wooden branches
If you have a park or a forest in the vicinity of the house, make sure that when you walk you have your eye ready to find the fallen branches quickly. You should try to pick branches of a similar thickness, that way the tree will be more homogeneous although, we also have to tell you that you can play with the dimensions of the tree through the thickness of the different branches.
Recycled Christmas tree made with pallets

As you have seen in other articles, pallets are a sensational option to create all kinds of decorative elements.
As it could not be otherwise, you can also create a tree with pallets, you simply have to disassemble it completely and design your own tree, putting the tables together with different measures so that you are under the impression of having a tree in front of you.
As for the decoration, the easy thing is to put a wreath of lights but you can also put foam, draw on the tables or color them to convey the Christmas spirit.
Here is another very creative version of using the pallet to create a Christmas tree. If you are good at painting and you have a room that you can prepare for this process, you can varnish a palet with a darker color and blend it, then paint by hand or with a spray the corners of the pine to obtain this Christmas tree.
Once you have it, you only have to add decorative Christmas objects with the help of small nails or pins.
If you like decoration with palets take a look at this post:
Green plastic bottles never had a second life as beautiful as the one you can give them, which is being a Christmas tree.
The one we show you in the photograph requires a great work of craftsmanship, as you have to turn each bottle into dozens of strips of green plastic. Then you have to put them together until you get this recycled tree.
Recycled Christmas tree made with bottle corks
Are you passionate about wine or are you collecting corks? Surely you have never thought that so many corks could turn out to be a spectacular Christmas tree.
In case you do not have time to find so many corks, you also have other options. For instance, you can create a tree skeleton and then go placing corks around it.
Or another interesting option for those who have few corks is the following: you can make mini trees or decorative objects for the Christmas tree by recycling wine corks.
Recycled Christmas tree made with bottles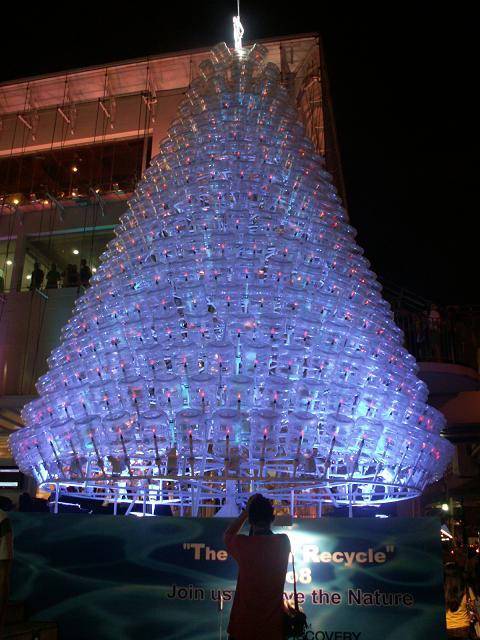 Our passion for recycling can lead us to unexpected places. If you don't believe it, take a look at how dozens and dozens of bottles have become a spectacular Christmas tree. Clearly, this is done on a large scale but you can achieve a similar result if you put together a few bottles at home and create a structure for it that can hold the bottles and in which you can introduce a garland of lights.
Recycled Christmas tree made with books
The books hide so many stories and so many worlds to discover, this, it seems a great idea to create with them a Christmas tree full of excitement.
As you see, in order to create one of these dimensions we have to be patient and be tall. The books doesn't have to be placed exactly in the same way, so that they can give a sense of volume and stay put.
Recycled Christmas tree made with sweaters
If you don't like to wear a wool sweater or a sweater you have at home, do not throw it away! You can create small carpets and different dimensions to create this Christmas tree pyramid.
Recycled Christmas tree made with broccoli
A delicious way to show children the value of vegetables and make them more attractive is this broccoli tree.
Broccoli is sensational if we want to come up with a vegetable tree, because it already looks like a tree. If you are putting together different broccoli or you are dividing the broccoli in saplings, you just have to put them together and add some cherry tomatoes as if it were the foam.
Recycled Christmas tree made with eggcups
An important point if you are thinking of recycling the eggcups this way is that you can find in many supermarkets egg cups in different ranges of green, so there is no need, although you have the option, to dye the eggcups.
In case you do not find the eggcups, before you put together the Christmas tree, you will need to paint them green. If you are going to do this, ideally you use different ranges of green that can give a sense of volume and differentiated branches.
To decorate it in the photograph they have used ribbons and coffee capsules. All recycled!
Recycled Christmas tree made with a ladder
For some years we have been able to see how the stairs have stopped being used just to reach things that are out of reach and have also become decorative elements.
On this occasion, we see a possible Christmas tree that has been achieved by adding decorative elements such as lights and hanging ornaments. It is simple but beautiful.
Recycled Christmas tree made with newspapers
If you are passionate about the newspaper, this is your Christmas tree. All you need to do is roll up rolls and rolls of newspaper to finish creating a tree that plainly supports recycling.
Recycled Christmas tree made with pieces of wood
Here we have another Christmas tree that has been made with tree branches, well, as you see you only need a rope to fix the different branches and decorative Christmas objects that give that sensational touch.
Christmas tree Recycled made with cardboard
Many times we accumulate cardboard at home, either from an order we have made or from a Christmas gift sent to us. Well, this is a sensational way to give a second life to the carton and get an ecological Christmas tree.
Recycled Christmas tree made from scrap material
There is nothing you can not use to make a recycled Christmas tree. If you don't believe it, take a look at these pieces of undone cardboard. We have created a tree with a lot of volume thanks to these pieces in different dimensions that give the tree an exceptional look.
Recycled Christmas tree made with paper and wood
For this tree you can use everything. For instance, do you have nice napkins at home, posters, fabrics, tablecloths that you no longer use or gift cards from past years?
Make the tree special once again and create a completely varied and beautiful Christmas tree.
This could be called the wishing tree or the messenger tree or the whatever you want tree because each number hides something that you will be choosing at some point. Use a material such as hard cardboard, branches or sheets that you have at home to create the tree and then hang the cards with each one of the numbers: ecology, decoration and illusion in its purest form.
Recycled Christmas tree made with glass bottles
If you normally use glass,  you can store bottles of the same size for a while to create a Christmas tree like this. In addition to the glass you will need hardboard or other tough material that can hold the bottles. The more height, the fewer bottles and ornaments with colors that should contrast with the color green and bring light.
Recycled Christmas tree made with coffee capsules
Look at these coffee capsules like you've never seen them before because now you can have a mini recycled Christmas tree at home that smells like coffee.
Recycled Christmas tree made with pine cones
This can be a decorative element as a gift of Christmas in itself because there is nothing more endearing than these tree pineapples, home made and made with much love.
You're going to need pineapples, green paint to dye them and some white paint to make snow. If you add a star that puts the icing on the cake (in this case the star in the pineapple) is going to be sensational.
Recycled Christmas tree made with car hubcaps
Can you imagine a car workshop where they have this Christmas tree in the street? It would be impressive and if you have one, do not hesitate to do it because you can get a large number of visits just for being original.
Recycled Christmas tree made with number plates
Many people collect registration numbers or buy license plates in different countries to decorate their homes but not everyone has thought of creating an original Christmas tree with them. Write that down, because it does not take much, just add a few lights and it becomes something pretty cool.
You can do these trees with the little angels of the house since the structure is in the form of a cone and you can make  it or buy it made. They can take care of going through the structure with thick rope or very thick wool, then stick the colored buttons and go!
Recycled Christmas tree made with pieces of cloth
Those who have small children at home or if you yourself tend to do crafts, surely you have felt cuts out there. Thus, why not give them life by transforming them into this original tree that is only sewn in the central area?
Nice, easy and convenient to store.
Recycled Christmas tree made with PVC pipes
Not everyone would have imagined that PVC pipes could become something as flashy and beautiful as this Christmas tree. You will need them to be pipes of different sizes in width and thus achieve something randomly, fill them inside with colored balls or objects that you like and enjoy.
Recycled Christmas tree made with plastic bottles
Again, we can see how plastic bottles can turn into a recycled Christmas tree. You can buy the pack or you can make the same circles at home so as to hang each bottle, it is necessary to take into account the thickness of the neck of the bottle and that the circles should be of a different diameter to give the tree that pyramidal sensation.
If you are interested in Christmas decoration don't miss out on this article:
Christmas decorations for the household and the workplace


Do you want to know more about Christmas trees with recycled materials?

It couldn't be any other way, the eco-friendly trend that we have currently been experimenting over the last few years has been turning into a fashion trend that the whole word is willing to welcome.

In all the items of the interior decorating the words eco-friendly or ecological are being used to promote a new way of living. This term suggests that we should coexist with the environment, take care of it and, thus, not to hurt our planet and the climate. It was only a matter of time before we realized how important being eco-friendly is.

Green X-Mas Tree

In 2009, this green Christmas tree was launched with its own name, Green X-mas tree. A work of the Australian designer Buro North that created an 80% more eco-friendly tree than the traditional one.

This new eco-friendly Christmas tree can be found in 3 different sizes, so that each client will be able to choose the one that best suits their household and its decoration. In addition, it is made with recycled materials and it was produce through a technique that uses low energy.


Glass Christmas Tree

Recycling allows us to achieve impressive things, such as an eco-friendly Christmas tree created with glass bottles that, in addition to being more ecological, it radiates more light due to the color of the bottles and also some sparkles that can be sensational for your home.

Image: adventurers.com

Being this a tree that you can make by yourself, it will be you who chooses the size of it as a decoration ornament. We have chosen two different pictures that I think can be tremendously inspiring in order to do something beautiful.

Of course, it may not be the ideal material if we have children or a pet at home, as either of them can break the tree more easily than with other recycling materials.

Eco-friendly Christmas tree with cans

Image: Vintagellous.com

Who would dare say that this tree is made with tomato cans or any other type of food, after having seen the perfect final result that we can achieve?

Our colleagues from Vintagellous have done an impressive job of cleaning each of the cans well, painting them with a beautiful green hue. If you look carefully, they have made holes so the light can go through them and, plus, with truly Christmas motifs.

Eco-friendly Christmas tree with wood

Image: .desainer.it

The photo that we selected to lead this article would go in this section, along with other images that we have chosen so that you can see what we can do just by going for a walk in the field: we can pick up branches of a fallen tree and bring them back to life in a way that you would have never imagined.

You can create precious eco-friendly Christmas trees, which do not necessarily require endless hours of work, but can either be a personal project in which you can pour out all your creativity.

After having finished creating the tree, you just have to choose the Christmas motifs and the colors that you would like to be part of that very same tree and voila! You are done!