Here at espaciohogar.com we believe one of the best ways to decorate your house for Christmas is to put flowers as a wonderful Christmas decoration 2020. Flowers are also a great way to make our house unique, because they create a lightful and colorful space with a pleasant scent. Are you familiar with the typical Christmas flowers? In espaciohogar we want to share with you some ideas for flowers and centerpieces for Christmas that you can use to decorate the table at Christmas and also to decorate every area of the house.
Christmas flowers and table centerpieces 2020
Throughout this article we will introduce you to the different Christmas table centerpieces that are within our list of most beautiful centerpieces for this holiday. There is not a specific plant or flower that we should buy during this time of the year. However, if we buy one, it should be red. This color conveys a Christmasy feeling, hope and enthusiasm.
In fact, red is the color that better combines with the Christmas centerpieces for the table, because, on top of the red flowers or plants that we are about to show you, we can always add golden candles and other ornaments in the same range of color. All this results in the perfect combination with the traditional and frequent red.
One of the ways to celebrate Christmas is not only decorating your home with the typical Christmas ornaments but also decorating it with plants, like the red Poinsettia known in Spain as the Easter Flower.
It is a traditional Christmas plant, and its vivid red color it's key to decorate the house. For instance, you can put it on a shelf. Just buying two of them, your house can already be "decorated" for Christmas and this plant might even inspire us to decorate any corner of the house.
In the image that we show you above, you can see how to combine this plant with different ornaments and make a beautiful centerpiece. You can combine typical aspects of Christmas like red pineapples or pineapples (related to Christmas trees) or red Christmas balls.
At the florists you can find this type of plant already decorated and ready to be the perfect centerpiece, or you can buy two plants and put them in a small basket, add some Christmas balls, pineapples painted in red and we are ready to go!
Christmas Tablecloths 2020 with red flowers
You can create your bouquets of flowers to give more color and life to your house by yourself. Simply be creative and do not forget to use red flowers, like the ones we show you in this image. You can also combine red flowers with flowers in different colors, such as white flowers.
It doesn't matter if the flowers that you like are roses, daisies, chrysanthemums, lilies or red flowers. The main thing is to use this color and combine it with Christmas accessories, such as candles. That way you will be able to have a nice centerpiece for any of the celebrations that might take place on such a special occasion.
Another of the ways in which you can prepare a bouquet or centerpiece for Christmas is with red roses decorated with pine branches that gives a special Christmas twist and generates a scent throughout the sensational house. Branches like this can be used to decorate any room of the house, and can also be used as a centerpiece.
If you choose some red flowers, such as roses, which we've seen quite a lot of, you can also combine them with the traditional Christmas pineapples. You can pick up a vase and place some roses in it (or any red flower you like) a few pineapple branches, and add a couple or three pineapples that may be natural or may be hanging on the Christmas trees as they are usually ornaments painted in all kinds of colors.
If you prefer to have a centerpiece that is elegant yet modern, you do not have to spend a lot of money or complicate your life in any way. We can make a centerpiece by ourselves as beautiful, original and as simple as the one you see in the photo. You justs need to place two red roses in two vases and surround them with Christmas balls. A nice center that you can improvise in a few minutes if you don't have any ornaments on the table.
We can also choose to put candles in the centerpiece. We think this idea can help you make a centerpiece like the one we see above. Bare in mind a centerpiece is a traditional element when making centerpieces for Christmas. With three red candles in the center, surrounded by branches and red flowers. For instance, you can add pink flowers to the centerpiece as well. To make this type of centerpiece, it is better to have a base on which to place all or one of those florist foams that will allow you to put the flowers and the necessary branches.
Christmas Tablecloths 2020 with white flowers
We've already mentioned the white flowers in previous photos. This is a good option if you are looking for an elegant Christmas centerpiece, which is as beautiful as this one. For instance, white roses, like those in the picture, combined with other flowers in different shades of red, will be useful when it comes to decorating the whole house, including the Christmas Day table.
Another idea that we really like for a Christmas centerpiece, aside from combining white flowers, is choosing different styles. For instance, you can choose carnations or more exquisite flowers, such as the orchids, and combine those with other smaller flowers of a different size. Then you can put them in a vase or, as they have done in the picture above, you can place them in a metallic container that will surely bring a much more modern look to your Christmas table 2020.
Just choosing to put white flowers on a centerpiece seems to be a great idea as a centerpiece for Christmas 2020 as well. Did you know that the color white is one of the trends this year? If you want to make your Christmas table look like the latest trends this year, you can place a series of centers, like the ones you can see above at the table. They are made of glass or see through vases and you can put a few white flowers in the two centerpieces. Orchids can be the perfect choice, but same goes to lilies. We need flowers that are tall, or flowers that allows us to leave a long stem. Let them stand out and bring something special to your table, like you've never seen before. Your guests will surely love it.
Christmas table ceterpieces made of mistletoe
They may not be flowers, but the holly (as well as mistletoe) is also a perfect element of nature to use if we want to make our Christmas centerpiece 2020 properly. In fact, they are traditional elements of this era and, in the picture above, you can see how good the mistletoe looks in a centerpiece. This idea is original and, at the same time, it's as simple as putting holly paste inside a vase with a floating candle, for example. We can even place a little bit of holly inside a glass that's upside down and put he icing in the cake by adding a candle.
If you liked these ideas for Christmas centerpieces, don't forget to take a look at the following photographs. Get inspired!

Have you noticed the harmony of the decoration of this table? The dishes are embroidered in golden colors, as are the cups and forks. The tablecloth is in a pastel shade and the centerpiece of the table unifies all the different ranges of color with the color gold and flowers that combine perfectly.
The bowl where this centerpiece has been created seems like the typical sweet chocolate fountain that we can see in large establishments and houses, which also reminds us of how we can recycle objects we have at home to create table centers like this one.
Choosing the type of decoration for your centerpiece is essential. On the one hand, here we can see how to maintain the harmony between colors by choosing to have the golden color prevail among them. On the other hand, it is necessary to take into account how much space is available so that it does not look too excesive or with too many ornaments.
With recycled elements or through crafts you can also create centerpieces with Christmas tree shapes, which provides a centerpiece of a different height and prints that are simple and great.
In the decoration shops and craft shops you can find this type of centerpiece, something very simple but that can bring more color to the room.
Look how white flowers can be the perfect touch for an ideal centerpiece, whenever we see a clear predominance of red colors in different versions. Simple, elegant and unremarkable.
As we've already mentioned before, flowers are one of the most interesting options for any centerpiece and any celebration. Whenever possible, choose real, natural flowers, because they truly change the whole arrangement of the table. You should take into account what kind of scent the flower you've chosen can give so that it does not alter the smell of the dish.
Although it might seem that this centerpiece was done without effort, because all the Christmas ornaments look like they have left there and have not bothered to give shape to them, you should pay attention to the main element of the napkin, which also appear in the center of table. Also, take a look at how the centerpiece is surrounded by chocolates.
The purists of the table decorations would never allow the dishes to be presented in that way, because they think there can't be Christmas articles on the dish, not only because they are decoration ornaments but because they can leave glitter on them.
This is important to keep in mind, if we are looking for the wow factor and a shinny (and without glitter) centerpiece. We should also take into account the kind of people that are coming to our house.
Just by looking at it, we could state that this table decoration has an archaic style, hinting at Christmas elements, such as the snow and the cold. The white colors of the decoration are what create this effect and, if you look closely, we can see how some Christmas figures can also be incorporated into the centerpiece.
This centerpiece at this table may be acceptable when we talk about a light or smaller meal but it would be completely wrong if we talk about a traditional meal because the height of the chosen centerpieces would not allow people to see each other.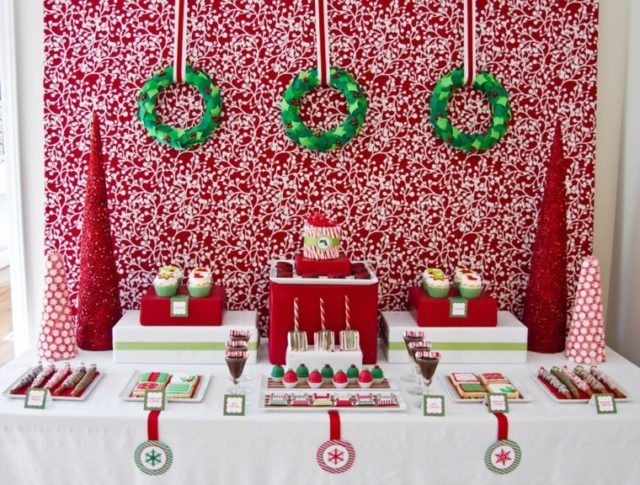 More suprising than talking about centerpieces, which are in the form of candy on the sides, what is striking is the background that they have arranged for this catering table with its red colors and crowns in shades of green.
If you want to create your own centerpieces and you have a low budget, you only need a little fabric to create a "dress" for your candles.
An excellent centerpiece can also be made by a mere decoration ornament, as can be the sled of Santa Claus.
Creativity can sometimes leave us speechless, and this is what can happen to whoever sees this photograph. If you like it and want to know how to do it, you only have to put together several containers of different sizes that you probably have at home, add a lot of cotton a little frayed and give them touches of color with natural flowers and Christmas balls.
You don't have the time or budget to prepare a centerpiece? Don't worry, here you will learn how there are those who are encouraged to pick up more than one dish, place spheres of different colors and sizes there with different effects. There you have it!
Is this picture really a centerpiece? The truth is that it could have been, although it is not. Nevertheless, we have found the decoration of the glass so curious and beautiful that we couldn't help it, we had to share it.
After having seen and read about the previous centerpieces, can you tell us what mistakes has this one?
You are correct if you have thought about the great height the centerpieces have and that such height will make it impossible to see comfortably the person dinning in front of us. This results in the conversation at the table being limited, which is not the most suitable option. Otherwise, the combination of plants would be really nice.
In this photograph we see a very simple centerpiece, formed by three cones painted inn gold on a red tablecloth. Both colors are quite typical during Christmas time.
This combination of centerpiece is sensational and striking, where we can see that each glass container contains a different Christmas element: candy canes, pine cones, Christmas balls and holly branches.
This is something so simple and at the same time so beautiful, due to the fact that we are looking at an advent wreath to which they have added a Christmas tree in the middle to make it more personal and more striking.
The chosen candles have a color similar to the one the mirror has, which means a more harmonious decoration in terms of ranges of colors.
Two simple, striking and typical elements of Christmas can make an ideal centerpiece. A tall bowl full of decorative pine cones with leaves that look like holly, even though they are not.
If you like the glitter and everything that shines a lot this can be your inspiration for the Christmas holidays.
In this centerpiece you can combine the Christmas balls with fruits, like apples, or choose other different decorative ornaments in order to create the perfect combination. You should know that the main vessel without the small candles is not as impressive, the whole creation is what makes the centerpiece so beautiful.
In the article on "Christmas Tablecloths", we already told you which colors were the most elegant and frequent, how to combine them and what mistakes not to make.
On this occasion, we want to show you how the centerpieces can combine with pine leaves and tall candles to convey a natural look.
This centerpiece is similar to an advent wreath where we can see how colors such as individual tablecloths and napkins are combined perfectly.
This centerpiece is quite fruitful and tropical, with a pineapple on either side of the main centerpiece, which is made up of red fruits of different sizes. Would you choose it?
Sometimes the simple things reveal really good taste. Here we have an example with a centerpiece that may look average but it's actually really elegant.
Have you thought about how to decorate a dish in a funny and innovative way?
This centerpiece has the counter that we talked about earlier. If we removed the top three we would have a spectacular centerpiece with candles in the shape of a Christmas tree and various classic colors, such as green, silver or white.
What is your take on a sweet centerpiece? The decoration of the table and the chairs is sensational, like the Santa Claus that appears on the table.
This Advent wreath has turned out to be a precious table centerpiece, with its bright colors in gold and red shades, the four candles in light tones and, all this, stands out if we compare it with the dark color of the wood.
The difference between this centerpice and the previous ones it's the proportions of the centerpiece and that it's in a basket, which makes it much easier to move from one place to another.
Who wouldn't love a sensational table with gingerbread cookies shaped like Christmas trees and candy containers, red paper figures with a huge Christmas tree as a background?
This is one of those big centerpieces, not only due to the measures and length of the very centerpiece but also due to its height. The Christmas spheres look like small balls and have a sort of cable that rises. This centerpiece is not better than the others but the small spheres that come out of the centerpiece, as if they were floating, draw attention.
This centerpiece is similar to the one we have seen above. However, take a look at how this centerpiece achieves a completely different effect when choosing Christmas spheres of light tones and pastels. This is what makes the difference, as well as how candles are also added with light colored.
In these centerpieces we see how the shades in gold are chosen so the centerpiece combines with the plates and the napkin holder. Thus, it is a success.
As center of table you have used two big candles. Ifyou like them, you can find them in different decoration shops, in particular, for these dates.
The paniculata is one of the plants that are most frequently used in the branches. It can also be used as a centerpiece providing a more natural decoration. On this occasion, we see a combination of the color gold and ocher shades in order to achieve a very beautiful result.
These centerpieces are very striking because of the ethereal sensation produced by these Christmas trees, accompanied by candles and small white figures.
On this occasion, we see a centerpiece created only in red with different tones. We can see flowers that seem dry in contrast with different fruits.
Candles are a classic of the centerpieces because they provide an intimacy in the room that can only be good for such a celebration. On this occasion, we believe that you will agree that the red string that appears on the plates is the one that does not go well.
This centerpiece always proves to be a good choice in terms of colors and contrasts with those red shades that are so vivid, of different sizes and that bring that liveness to the centerpice as a whole.
Again, we come back to find a classic and elegant centerpiece. If you are unsure, these type of centerpieces are the most suitable since they have all the Christmas most classic colors, with a snow effect and a proper size.
This is a simple centerpiece that you can use during the rest of the year in different parts of the house: the candelabras in red shades, which are the ones where you can place your candles of advent.
If you are preparing a children's centerpiece or for those adults who love candy, this is the most fun and adventurous option, both in colors and in the use of candy. Let's have a sweet Christmas!
If your budget is small, you should be aware of how you can use items you have at home to turn them into special, different and very eye-catching centerpieces. The decoration is not always expensive, it is a matter of knowing how to be creative.
Another version of Santa Claus sled, only bigger, can be a very interesting decorative ornament to place on your table or sideboard.
If you want to bet on colors that are not so classic for the Christmas holidays but you love them, do not overthink it. You can create nice combinations with them and create your very own version of Christmas.
Which flowers do you use the most at Christmas to decorate your home?
Some articles that might be of interest to you: