Garden fountain designs: We will be showing you garden fountain designs that you will surely love and will definitely want to have in your garden, patio or terrace. Do not miss out on our selection of over 100 photos so you can get an idea of which garden fountain to choose.
Garden Fountain designs
Having a garden at home allows us to have a good fountain with which to decorate and with which we can also count on water outside. There are many models to choose from so that we show you a gallery with 100 images, although before we see these examples that no doubt you will love.
Garden Fountains for modern gardens
If what you are looking for is to renew your garden, we suggest a series of fountains that will surely shape your garden area.
Fountains: creating a water curtain
Having a garden is fortunate, because we can place a fountain there. Truth be told, there is a wide variety of designs today that would allow us to place designs that blend in with the style of our garden. If the design of our garden is quite modern, for instance, you can choose a fountain in which the water creates a curtain when falling as you see in the image above.
Garden fountain with torches
On the other hand, if you want a fountain for a modern garden, you also have the option of placing one where small torches can be place. They will definitely stand out when we light them at night or on special occasions. An original design it's also ideal for those people that want a fancy garden.
Fountains with jars
By placing pots or small pots, you can also make your garden look the most modern, fashionable of them all.
Individual fountains
If you have a garden and you want it to look modern, there's nothing like a fountain to achieve this. Here in this section we show you fountains like one in the picture above, that are individual fountains and that are sold with an installation included. This means you can place them in any corner of the house.
Garden Fountains with stone blocks
A fountain with stone blocks and waterfalls
You can choose to built a fountain with a block of stones by yourself, or buy the block already carved, all with a cascade system.
Garden fountain with separate stone blocks
If you want you can have a fountain like the one we show you in the image above. With different stones and placed so that you can immitate the Mediterranean style for your garden.
Garden fountains with stone blocks in a wall
If you place the block of stones as if it were a wall, your garden fountain will occupy more space, but it will also look much more modern. We've seen in the sectiones above how stones can make our garden look much more cozier.
Garden Fountains with a pond
Garden fountain with a pond and a waterfall

If you have space, there will be nothing like a garden fountain that ends up in a pond, but also something like what we can see in the image above, with a waterfall effect, can be quite spectacular.
Garden fountain with a small pond

If the meassures are smaller, you can choose to get something similar to what we show you in the image above, which is more suitable for a small garden.
Garden fountain with a pond and two fountains

This fountain with a small pond and two fountains can also look great in a small garden.
Zen garden fountains
Zen garden fountain with stones

We have already seen how to take advantage of a block of stones to make your fountain. If you stack them, you can achieve a great result, like the one we show you in the image above.
Zen garden fountain with bamboo

Another option is to build from the use of bamboo cane, a fountain as original as this one.


Here you can see another design with bamboo located at the top, which is an essential element.
Garden Fountains: With lights
Garden Fountains with Classic Style Lights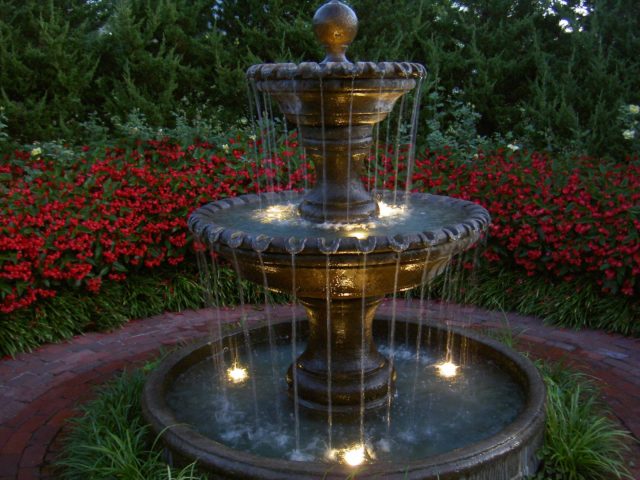 For people with a classic taste that also like a slightly modern style, you can choose a fountain like the one we show you in the image above. This fountain is classical yet modern, thanks to those small lights.
Garden fountains with lights and a modern style

This is a garden that requires much more space. It is perfect for those people that are looking for something modern. There is nothing like this design we show you, which also has its panel of lights at the bottom.
Garden fountains with lights and waterfall

And if you are not sure you should go ​​for a small fountain with lights, we can assure you adding a waterfall to relax is perfect.
Garden fountains with lights and an original design

With an original design, you can actually think of owning garden fountain that also allows you to incorporate lights.
Original garden supplies
Original garden fountain with a piano

I do not know how they did this, but it is one of the most original garden fountains that we have ever seen.
Original garden fountain with pots

With simple pots, you can filter the water through them and, thus, achieve an undoubtedly original fountain.
Original garden fountain with pots

The same can be achieved by stacking a couple of pots. You will achieve quite an original style without question. This is one of the most modern designs we've seen so far.
You have already seen photos of garden fountains that will surely inspire you. However, if you wish to see more, we will leave you now, with 100 photos of the different garden styles we have mention thoughout the article, which are all spectacular.
100 photos of garden fountain designs
Garden fountains are a decorative element that can also create a microclimate. Throughout history the fountains were used in the gardens as we see in the Alhambra or in the Gardens of Neptune in, the Reales Alcázares of Seville or in the gardens of the Palace of Versailles. Garden fountains are, to this day, still fashionable. Therefore, if you have the space and the budget do not hesitate to install one. That way you can add the final touch to the best garden decoration for this summer 2015. Moreover, your garden will look like no other.
Garden Fountains

You may also like:
The sound of the water falling is always relaxing, soothing… Maybe that's the reason why the arabs would place water fountains in their gardens. These arab designs for the gardens were created so people could enjoy the space with all the senses. The fountains were able to achieve beauty and the magical gurgle sound of water falling.
You might think of these water fountains as "extravagant" or too excessive for an average modern house. Nevertheless, the truth is that they've become quite fashionable this year. You can even choose between different styles that are out there in the market, so you can actually find a fountain that can blend in with the style you've chosen for the rest of the house.
Glass fiber, stone, stainless steel, terracotta. Garden fountains today are manufactured in a wide variety of designs, sizes and materials. From the largest to fountains that will be placed in small gardens. Any garden fountain can be perfect when it comes to creating a personalized area in the garden. That way we will make sure that wherever the fountain might be, it will definitely draw attention.
Fountains with lights

Fountains with a pedestal and several levels

Fountains with an ethnic style

Fountains with a classic style

Fountains with a rustic style

Fountains made out of stainless steel and fine copper

Outdoor water walls

Wooden fountains 

Cascades

Stone fountains are elegant, solid and durable. They can be in the shape of vases, like the photo we show you up next, with several levels or with a pedestal. The fountains of the most famous gardens are made of stone, so they have a special charm. These fountains are heavier to transport than others, such as fountains made out of fiberglass. The advantages are that the stone has little maintenance and it doesn't get damaged with time. If you like this design, rustic stone fountains are the safest bet for your garden.

We can also choose fountains that have been carved in the shape of other elements. There are many different shapes available, but, for instance, we can follow the example of the image above and look for garden fountains in the shape of jars, or in the form of a tree with lights.

Classic garden fountains will imitate the taste of gardens of other times, such as the fountain with a semicircular pedestal and a pipe in the shape of a lion's head. The fountain is a strategic place in the garden, because according to size the evaporation of water creates a microclimate in the surrounding area. Plants and flowers that need more moisture like ferns, hydrangeas, begonias, azaleas, ivy can surround the fountain creating an ornamental set in your garden.
Modern garden fountains

Aside from the wide variety of fountain designs that we can place in our garden, it seems that the most popular design is a modern one. Modern garden fountains stand out because of their geometric designs, for double structures where water drops from one level to the another creating sounds and decorative effects. The fountain in the shape of a cylinder with different pipes so that the water falls in different jets of water, which are also a modern design. Sophisticated outdoor water walls look like a wall and yet they are a fountain. They can be attached to any wall, so they don't use too much space.

And if you like something that is more original choose an ethnic fountain, inspired by the Zen style; you can also choose a Japanese style, the oriental influence of Feng Shui seeks order and contact with nature. Fountains are used in oriental gardens as decorative elements surrounded by plants, trees and decorative stones. If your garden is small you can still place a fountain in the garden, there are small fountains that can be placed in any given space. A vase or a fountain? You can have both, menaing, you can put a nice vase in a blue color that is also a fountain. It occupies very little space and it's ideal for any garden, patio or terrace. Minimalist fountains , modern style, in black, with a geometric design, and elegant and sober details in order to decorate the garden.
Garden Supplies | 2015 models

For this 2015, it seems that companies specializing in garden supplies have realized it's good for business to take into account all types of gardens. They even sell a lot for those gardens that are not very big. The small, simple fountains that we can place in any area of ​​the garden have recently become a trend.

Also among these types of fountains that are of a smaller size, we can find designs that surprise us because they can even be placed on a terrace. This small fountain, on a ground level, will surprise you because it will fit perfectly in your little garden or terrace.

Anyway still the biggest fountains are still the most popular ones among the fountains designs for 2015. If you want to buy one, or be inspired so you can look for something fashionable, the best thing you can do is choose a fountain like the one you see in the photo above, taking into account that having the diffrent jets is still a trend.

As for styles, there is nothing like betting on a fountain design that is a little bit more rustic, We would even dare say in this case country. This way we can select a garden fountain that resembles a vessel. This type of fountain will be spot on for any kind of garden.
Video of Garden Fountains
Photo Gallery of Garden Fountains