There are many houses out there that have the perfect layout and more than enough space so as to have a chimney. Right now, fireplaces have been renewed. Thus, we can now choose among the different designs that are also really in style and vary a lot. If you are thinking of placing a fireplace at home for the upcoming winter, here at espaciohogar.com we show you more than 50 ideas and pictures of living rooms that have modern fireplaces.
More than 100 ideas and pictures of living rooms with modern fireplaces
The current trend nowadays is modern fireplaces, in those houses that can have such a decorative element, not only because they provide the heat we need to get warm, through new gas and bioethanol systems (in some cases these pollute less), but, on top of everything else, modern fireplaces have truly spectacular designs.
So much so that when a modern fireplace is off, it looks like a decorative element, or even the latest technological device.
There is a new concept that the fireplaceshould fit in taking into account the space that we have. These new modern designs are a good option too if we want to combine different colors in the living room, if we want to change the design and innovate, or if we just get inspired to choose elements such as wood.
The inspiration behind the new fireplaces
Up next we would like to show you some ideas with pictures that will certainly inspire you and help you choose where to place your modern fireplace or what color will be best for the chimney.
These ideas we will be showing you are conveyed through the following images and, in addition, through a wide photo gallery. In fact, you will get to see more than 50 inspiring suggestions.
Modern fireplaces: living rooms with white walls
Our first idea is to show you a fireplace on a white background wall.
Truth be told, this color is a current trend. Not only will this color be useful if we want our living room to look on point but this color will even make the fireplacestand out.
Many of the fireplaces we will be seeing this year are on white walls. We are certain that this is the hottest trend right now fireplaces.
It doesn't matter if the fireplace is in the main wall of your living room, or if, like the image above, you have one that allows you two divide the room in two different atmospheres. The main thing here is the color white, which can make the fireplace stand out and also combine with the characteristic dark color of the chimney.
What do you think of a fireplace on a white background, which can also occupy a large part of the living room wall? The result is without doubt quite something, not only modern but spectacular.
Modern fireplaces: living rooms with dark walls
If you are a kind of sober color person, don't worry because your modern fireplace can also combine with colors such as brown, for instance, which is now actually trending. Don't you think the living room of the photo above is quite elegant?
And what about a fireplace on a completely dark wall? Sometimes we might think that a black wall could end up being too much, but if you have space and you know how to choose white furniture, as you can see above, the fireplace can be placed in a completely dark wall and, thus, stand out more.
The color brown is one of those colors that have become quite popular regarding the current decoration trends and we can use it for a living room, like the one you see here with a black modern chimney, which fully fits in.
Another kind of modern living room, although clearly inspired by living rooms that have a rustic style. Don't you think it's elegant and cozy at the same time?
The color gray is not such a dark color, it depends on the intensity of the color, but we would like to include it, so you can see a fireplace style that you find spectacular.
If you want a very particular design, get inspired by the fireplace of the most classic living rooms that can also be placed in white furniture, which makes the fireplace stand out regarding the color gray we've already mentioned before.
Modern fireplaces: wall angles
If, on the contrary, you don't have enough space, maybe you can choose a modern fireplace design that takes advantages of the angels or corners. You can actually see how great it looks.
Another idea you can take a look at would be when you have a tiny corner in the living room where you can place your modern chimney. There are certain styles that can adjust according to the space we have.
That way we can actually make use of any small corner of the house. These fireplaces have a special design, of course. This design must adjust to the characteristics of the house.
With these type of fireplaces we can fully integrate the element as a decorative space. In doing so, we will avoid the fireplace clashing with the rest of decoration when we have to turn it off.
Modern Fireplaces with wood
A material that is currently trendy regarding interior decorating would be wood. This is a basic material when it comes to making our house furniture. Although, at the same time, this is quite popular even when the material imitates wood but it's not wood. For instance, slats or any material that can imitate wood.
If you combine it with a chimney, we are certain that your living room will be the coziest one by far.
On the other hand, if we bet on wood for our chimney, we will be choosing the best of the modern rustic style. A style that's currently trending and that goes nicely with the rest of the decoration, as you can see in the picture above.
Not only you can bring back a key element regarding interior decorating, but you can also integrate your modern fireplace in a much more classic atmosphere.
Thus, if we have a classic piece of furniture we there use to be an old classic fireplace, we can place a new one with a modern style.
Modern fireplaces: dividing atmospheres
We've already seen that the fireplaces in a corner of the house can also be a good option if you don't have enough space, but some of the most modern styles already have a design that allows us to divide the atmosphere.
In doing so, you will be able to warm two areas of the house, living room and dining room for instance, and that are, on top of everything, much more modern.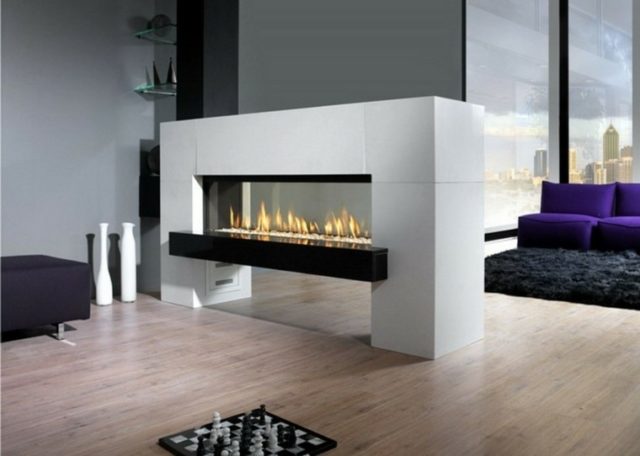 These types of fireplaces become a basic element that can create the perfect decoration for the living room, with so much style even when the fireplace is off.
We can also integrate a design and color with the rest of the living room elements and the dining room. De este modo, podéis elegir diseños como vemos aquí.
The color brown is also a popular color for a chimney, like the one in the picture above, that can actually help you create a living room and dining room that is in style.
Modern fireplaces: in an individual fashion
And for those of you that are daring, we suggest a modern fireplace design that can be placed in an individual fashion. It doesn't matter if the fireplace is hanging from the ceiling, with shapes as outstanding as the one in the picture above, with a round shape.
Even some individual designs have the perfect style so we can place the fireplaceanywhere in the house, which includes wood.
On the one hand, this type of fireplace is highly functional, since we can truly place it wherever we want to, which doesn't necessarily mean the living room.
By doing so, we can warm any area of the house whenever we want to. On the other hand, the design that venden en diseño que aunque modernos se inspiran en chimeneas con cierto aire "retro".
We have certainly shown you many examples of current modern fireplaces. However, if you want to see more, we now leave you some more photos, (more tan 100). Surely through these photos you are sure to find inspiration. Moreover, we have also written this other post that, without a doubt, will spark your interest:
Modern fireplace photos