Modern kitchens are one of the best alternatives we have today. We have a life full of chores and very little time to spend in our house. This often does not allow us to spend much time in the house doing chores, instead of devoting the time these activities require. Technological innovations give us the opportunity to do all that we simply can't do, so we can invest our time in different tasks and activities. The kitchen should be functional, simple, practical and organized. However, this doesn't mean we have to leave aside the design, which should be a nice design: a space that conveys the warmth of those households that we found in kitchens of a different time.
Modern Kitchens 2021
If you have not yet decided which decoration style can suit your kitchen better, we are about to show you now some surprising designs of modern kitchen decorations, which will serve as an inspiration when it comes to renewing one of the areas of the household that is being modernized and updated. We will now show you modern kitchens and some ideas on how to decorate them.
Designing your kitchen is one of the most important decisions you have to make when decorating your home. The reason is simple: you can not change the style of your kitchen so easily because the household appliances require installation and also require a plumbing service. Right now, the most frequent thing to do is to create a modern kitchen, with straight lines, high gloss and stainless steel. If you are not prepared to risk it, we recommend that you value the target, which is the color that is less fashionable.
You may be interested in:
White modern kitchens 2021

The color white is one of the main colors when it comes to decorating, especially if you enjoy a small kitchen. This color will help you achieve a very powerful visual effect, and that is a small kitchen that looks much bigger.
In addition, this color not only provides a much wider space, but it also helps increase the reception of light and provides a feeling of cleanliness. These advantages being key, along with the breadth, when it comes to choosing this type of kitchens.
Kitchens in white continue being relevant and should be taken into account when decorating this space. But beware, the excess of white can become a little bit cold. The best thing you can do is combine white with other vivid colors to bring some vitality. We leave many examples below. You can see them just by clicking on the gallery of this section.


The color white can be combined with many different colors, as it has the virtue of enhancing the colors we put alongside it.
If you don't dare try something of the sort, you can use an alive or strong color (in furniture or household appliances) or, if you like the classics, you can use the color white with neutral colors. Any of these will help you avoid geting bored of the same shade of white. Also, it can help give a certain degree of class and style to the kitchen, as in the following case, just by using neutral colored wood.


In addition to combining well with all colors, white blends well with all materials. Wood, granite, vinyl… All these are materials that can combine perfectly with white.
A white kitchen can also suit any decorative style that you might have in your house. If you choose a rustic style, you can have the wooden furniture painted in white, which will combine with flowers or wrought iron accessories. If you look for a nordic atmosphere, you can use the white color in lacquered furniture with straight lines. For a more retro style you can combine the white pickled wood with the glass material and pictures placed on the design, retro style tiles, and so on, like the ones we can see in the following image.


For a more modern or minimalist interior decoration you can choose to have lacquered furniture that can be finished with gloss or matte. You can combine this color with aluminum accessories or steel finishes, obtaining a modern result.
The walls can also be this white, whether you have a smooth wall or tiles. This color also goes well on ceilings, although it should be avoided when it comes to floors. In the case of floors, it is best to use a white color but with gray touches or sand colors.
Modern colored kitchens 2021
Many of you already know or might have already guessed that colors can truly influence us. We would like to show you, thus, the most suitable colors for this kitchen. As you might be aware of, we need to find a color that conveys tranquility for this area of the house so as to promote creativity and promote the sociability of the enviroment. Let's take a look at the most relevant colors, bearing in mind what we just said:
If you choose to use a cold range of colors such as the color blue, purple or green, the feeling the kitchen will be conveying is cleanliness, effectiveness and, moreover, sobriety. These colors makes us look like a professional in the kitchen. For instance:

On the contrary, warm colors such as orange, red or yellow help create a much more welcoming atmosphere. With these shades of colors you will make your kitchen convey joy, life and, above all, warmth. With these colors you can gain a lot up close, but you will lose in self-esteem. For instance:


The best option is to combine colors to achieve a neutral and more successful result. If you combine the colors of the kitchen, you will achieve the same effect that we have mentioned before with the two range of colors we have already discussed (cold and warm colors). This contrast can end up being truly interesting. But just beacuse we talked about these options, we are not implying you should start combining colors without giving it some thought. The best thing you can do is use those ranges of colors as we are about to show you now:


Out of the colors you choose, one must be the main one, which can be used as the base of the kitchen. Another one will be destined to a secondary role, being a color that perfectly matches the main color, and the third one will be the most striking color, only used in small strokes in the smallest elements of the kitchen.
Therefore, the first two colors should be quite similar or belong to the same range of colors. These two colors should be used for the main elements of the kitchen such as countertops, appliances, furniture warehouse… The last striking color will be one of the opposite range of colors that we have used as main and secondary, and we will use it in small boxes, clocks, small household appliances… One of the great advantages of this type of distribution is that when you want to change the style of the kitchen, you will only have to change the most striking elements of the kitchen for another striking color, different from the one you had before.
Regarding lighting and space, it is important if you have a small or dark kitchen is to apply light colors in the kitchen as pastels, lavenders, pale or ocher roses that have a white base to convey clarity and increase the sense of spaciousness. A clear example:


In contrast, large kitchens may choose darker colors. You can combine the striking tones at different levels to create a feeling of depth that can be truly interesting.
Now we leave you with the photo gallery of modern colored kitchens 2021 so you can get an idea of ​​how you can renew your kitchen:
Modern kitchen island 2021

If you have enough space in your kitchen to place islands, you are in luck, as the kitchen islands can become a very practical element and at the sane time can transform the space into a much more modern place thanks to the contemporary touches that the island conveys.
In order to choose the best kitchen island and take advantage of its potential, you should follow the advice given below:
The island must have enough space to be able to circulate around it with total comfort and breadth. The ideal distance between the island and the rest of furniture is 1 meter, more or less. For this reason kitchen islands are complementary elements when it comes to large kitchens.
The kitchen island market offers you a wide variety of models with different types of functionalities. Remember that your kitchen should be divided into 3 zones (cleaning, storage and cooking). If in the end you choose a kitchen island, try to find one of these 3 areas inside the island. In addition, the ideal height to eat in it is usually between 90 cm, or so, and if you use it as a bar to make an open kitchen the perfect height would be more or less of 110 cm. In the market, there exist islands with the adjustable feet, which is truly important if we want to use all the funcions of the bar.
There are kitchen islands with storage drawers. You can use the space but also stretch out your legs. This is the perfect spot if you want to turn the island into a space where you can reunite with your family or with your friends. If you are choosing the kitchen island to cook, you should bear in mind that it is also important to choose a good extractor hood.
The lighting plays an important role when it comes to these kind of modern island kitchens. This working area should be cleared so every inch of it can receive light and no areas are left in the dark. Direct light would be the perfect solution.
Those kitchen islands that are more resistant are those that are made out of stainless steel, laminated or aluminium. In general terms, you should avoid wood, unless you are willing to apply oil now and then.
Having given all the advice we could think, we will now leave you with a photo gallery of modern kitchen islands:
Modern Italian kitchens 2021
Let's talk about modern Italian kitchens. The traditional italian kitchens are well known throughout the world. These kitchens tend to convey a family enviroment and, moreover, a cozy one that will promote cooking among the guests and to prepare the recipes like you grandma used to make them, which means they will cooking truly traditional recipies. Up next we will leave you several examples of italian kitchens with a traditional style.
Modern Italian kitchens with a traditional design for 2021

As you can see, wood is an element that can frequently appear in Italian kitchen designs, providing a rustic style to the kitchen. It is only logical that modern Italian kitchens should usually be large, because it shows the passion and love that Italians dedicate to pasta and cooking in general, hence why their recipes are so popular in the world: You can see their well known Italian recipies.
Modern Italian kitchens 2021 – Ámelie design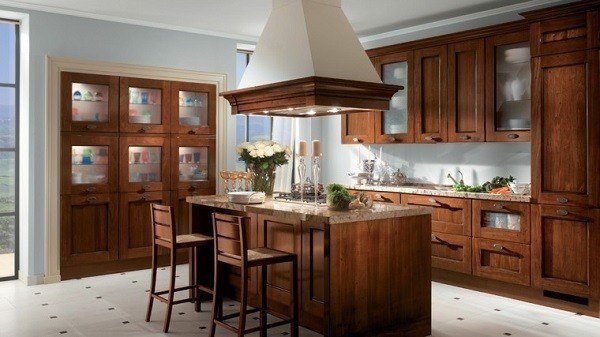 This type of kitchen has a modern design like the one we see in the photo above. The Ámelie design is the famous Raffaello Pravato made by the famous firm Scavolini. Here are different materials, always of very good quality, such as solid wood in the frames of the laying, granite in the worktops and glazed stoneware for masonry.
Modern Italian kitchens 2021 – Design with laminated wood furniture

This style of cooking combines the technological elements to help make the culinary recipes and, at the same time, an easy maintainance. This area is also very resistant to blows, burns, and other typical problems that may arise in the kitchen. This is a kitchen with a very traditional look that has innovative technological elements, like we see in the photo above.
Modern Italian kitchen 2021 – Retro design with green furniture

Once again wood appears as the main element of the Italian kitchen. However, in this case the paint finish of the furniture is lacquered with an aquamarine tone. The color used is the most appropriate for American vintage kitchens, but it is a trend that has been seen a lot right now for this type of kitchens. These are currently the most common designs of Italian kitchens. We will now leave you with a gallery of photos with modern Italian kitchen designs.
Small modern kitchens 2021
The distribution of a small modern kitchen is very important because depending on how we distribute the household appliances and furniture we will be able to gain space. The most commonly used color in small modern kitchens is white, because it makes the room look like a larger space. In addition to that, the color white enhances the light and the feeling of cleanliness.


If the kitchen is not too small we can put a bar or island in order to conect the kitchen to the living room and dining room without having partitions. By doing so, we will get wider spaces. In many studios and lofts, American bars are widely used as separators.


The storage space is very important in a small kitchen. Thus, the cabinets and tall furniture have a lot of protagonism because we can keep many things in them.


The latest trend in household appliances and small modern kitchen elements is the use of stainless steel appliances and furniture. It has often been associated metallic colors with hygiene and cleanliness. Thus, this fashion is trending.


In the following gallery you can see more examples of small modern kitchens, with all the ideas to decorate your kitchen.
To see all the modern small kitchens, we advise you to visit the following article in which we explain extensively ALL about small kitchens, with photos and videos to help you choose the small kitchen you want.
What are the main advantages of modern kitchens?
Nowadays, there are many different models of modern kitchens. Its popularity has made users who want to have a wide variety of colors, models, features to choose from. But in general terms, what are the characteristics that make modern kitchens so desirable?
Firstly, and it couldn't be any other way, its innovative design will spark the interest of potential buyers. Right now, the kitchen has ceased to be a separate space away from the visitors' eyes and has been increasingly integrated with the rest of the house. Thus, it has to impress people who take as much notice as the rest of the house decoration. Therefore, the kitchen not only has to fulfill the functions associated with it, but also must present a style that blends in with the rest of the house. This kind of modern kitchens, with its careful design, its shiny surfaces and its overall concept aimed at being both functional and pleasing to the eye, are a great option when it comes to conceiving the overall decoration of your home.
Modern kitchens also take into account their function as entertainment space. Following with what we have mentioned in the previous sections, the kitchens are no longer spaces dedicated only to perform functions related to food, but are also places where people can socialize. Therefore, modern kitchens are also characterized by the presence of functional countertops and outstanding islands with stools and matching chairs that allow you to cook, eat and store different objects in a unified form. In this sense, the attention given by these types of designs to the function of the kitchen as a space of socialization has conquered the hearts of many people, who have chosen to incorporate this type of kitchens to their home.
The surfaces of modern kitchens are usually sturdy and, especially, very easy to clean. Our lifestyle makes us currently go too fast. Thus, we are very grateful that one of the dirtiest areas of the house can be cleaned quickly and easily. For this reason, the materials of which modern kitchens are often made are characterized by being easily cleaned and much more resistant to stains, shocks and humidity than other types of kitchens. For instance, the materials of kitchens of a more traditional design, such as wood, for example. In this way, modern kitchens not only have a design more in line with current trends, but this design also adapts to our hectic way of life more easily than other kitchen designs.
This modern style also gives us the opportunity to have kitchens with integrated and combined furniture, which makes them perfect for small houses because you can thus take advantage of every possible gap. Modern kitchens are enormously versatile and adaptable, making them ideal options for homes the major problem is a lack of space. The islands that usually replace conventional tables in modern kitchen designs not only increase the storage capacity, but also add a new place to put household appliances that sometimes do not fit in the usual design, such as an oven or a dishwasher.
Also, the wide variety of existing models adapt to different spaces, being possible to add or remove elements according to your particular needs without the design suffer. This actually does not happen with more traditional styles, which suffer the lack of some main aspects. Finally, modern kitchens are enormously versatile and efficient, being able to provide, depending on your preferences, a mobile island that you can set aside to gain space if you wish to incorporate tactile appliances, through the possibilities they present from an ecological point of view and thrifty that other designs simply don't have.
Therefore, the fact that these kitchens completely adapt to the needs linked to modern life have made modern kitchens become the number one choice for a growing number of people, especially for young people.
Video of modern kitchens
Modern kitchen photos