The small full size kitchens are currently a must regarding decoration trends for smaller rooms. We are looking at functional and modern designs that will help us enjoy this area of the house.
What is a full size kitchen?
A full size kitchen is one that has everything you need to be operational but, as for the aesthetic line, all furniture and appliances follow the same design line to maintain the harmony of the area.
Therefore, the most common thing to do is to find the appliances perfectly integrated into the design, in both measurements and colors so that everything can blend in nicely. An example could be, for instance, dishwashers that have a cabinet door in the outside area so that the dishwasher is covered and people can't see the inside.
In fact, when presented in a modular way, which is almost always the case, they are a very good option if our space for the kitchen is limited. Let's see now what models you can find in the market and what trends currently exist for small full size kitchens. However, before you keep reading we definitely recommend you read the following article:
Small full size kitchens
This type of full size kitchens are characterized by having all their design equal, resulting in a full kitchen and whose elements such as drawers, cupboards are quite large. That way we can store in them all kinds of objects that are basic for the kitchen.
In addition, these kitchens include other elements like the extractor hood, the dishwasher or the refrigerator with the same structure or color that we have chosen for the rest of the appliances and so we can add them as we go shopping.
They are modular in their majority, so that they are arranged from different modules that are united forming a single piece that would be the one that gives them that full kitchen appearence that we might be familiar with.
Homes that are small have also seen how signatures dedicated to the design of furniture and indoor are were aimed at the fashion of launching full kitchens, which are small, and thus give a much more unified look to the final result. In fact, they can also be used to save space by having everything put together thanks to the modules that form them.
For years these types of kitchens have also been known as "kitchenettes", kitchens that are really single-modular and, thus, perfect for small "loft" floors.
Still today they are quite popular although with designs much more modern and daring. Don't you think the "kitchenette" of the photo above is something spectacular?
Colors and styles for small full size kitchens
Black and white
These are perhaps the ideal colors for a kitchen that is small, because with other colors that are more intense, such as red, we can have the feeling that we are making the room smaller. It is also a trendy color for current full kitchens and allows us to make the space of the kitchen look bigger.
If you have a small floor or a house with more space and with a minimalist style this is the color you should choose now for your kitchen, regardless if it small or large.
Gray or brown
They are also a option for a small kitchen but combined with the color white,  which can be a perfect choice.
Also think that they give us a cozy vibe regarding the space in which you place them and they can be a great solution if the kitchen is a full kitchen in the living room and you can paint or decorate with other shades that can blend in with the rest of the decoration.
Rustic style
It is fashionable but does not blend in perfectly with a small space. Anyway, take a look at this other photo with another design you might like.
Elements like wood are essential when it comes to a rustic style and you see how good the result can be when it comes to a full, small kitchen. You will even want to make it yourself.
Maybe it is not the perfect choice for a kitchen on a city floor, but what if you live in a small country house or a semi-detached house?
Modern or contemporary style
Being such a modern kitchen and a having a small area to cover, this is the style that will blend in perfectly with your kitchen.
In fact, the current full kitchens rely mostly on this type of design that is so modern, which makes them even look bigger than they actually are. They also come equipped with everything you need, so that once you start cooking, you do not even need to move around too much in order to access everything.
Elements that can't go missing in small full size kitchens
Kitchen
It is essential to have a kitchen to cook food. Currently all kitchens are made of glass ceramic. Much safer, faster, quick and easy to clean. Integrated on the countertop in which we eat. All this even allow us to have a central island.
Worktop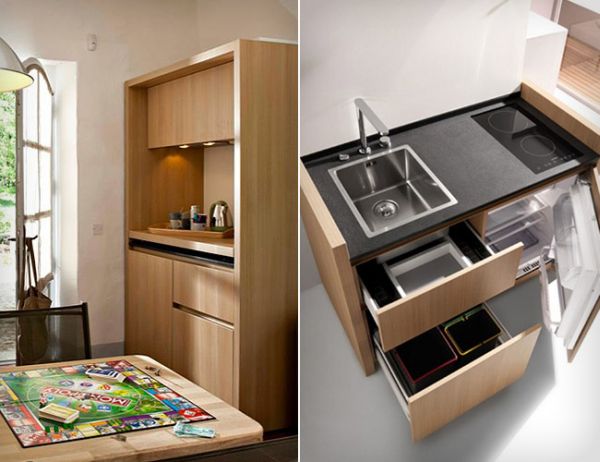 It also usually comes in a standard design and is usually of different sizes, depending on the size that we have available in terms of space.
Drawers and cabinets
Drawers and cabinets are, as we've mentioned before, a little bit bigger than in the kitchens (even if they are for a small kitchen). We can arrange them as we wish (these kind of kitchens can be easily reorganized so we can achieve a different result than what they show us in the store). We should point out that the doors usually close automatically in the case of the drawers. Even one-piece kitchens like the ones you see above include these modern drawer design.
Extractor hood
It is one of the elements that we mentioned above as something "extra" that we can add. In spite of this, you must have it and although in some cases it does not come included in the kitchen that we choose, in the store we are going to give ideas to choose the one that's smaller with the type and style chosen.
Table and chairs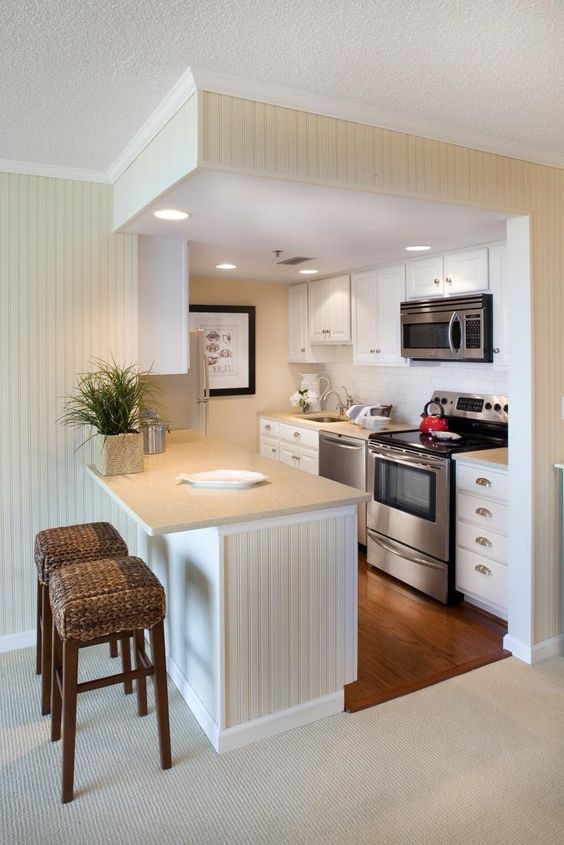 Table and chairs are elements not necessarily bassic although in many full size kitchens they are included. In many kitchen designed for houses that are small, we will see there is not a table where you can eat or have breakfast but they include some stools or chair that are arranged on one side to take advantage of the worktop.
Sink
In the same way that the extractor hood is a must, although it is not always included. Anyway we can choose it to be the same style and color as our full size kitchen.
Other elements and accessories for small full size kitchens
Who said that having an full size kitchen and, above all, small means that we don't have to pay attention to the decoration ?
Aside from the essential elements, which you have already seen, we have to mention others that are not so necessary but that make our kitchen look more in style.
Flower pots, clocks, and even lamps are not essential elements but they are necessary in any kitchen. Moreover, when we find modern models that blend in perfectly with full size kitchens, even with the small ones. With a little help from these elements we can make our kitchen look modern, regardless of  how small it is.
Also appliances of a small size are perfect to integrate into a small kitchen. Purchase ingredients scales like this and you will get your kitchen will never go out of style.
Even the trash can can be chosen depending on whether the kitchen is larger or smaller. This model, for example, is perfect for a small full size kitchen.
More than 100 photos of small full size kitchens
After having shown and talked about the latest models of small full size kitchens, we leave you more photos that will surely inspire you.
Video of full size kitchens
Contemporary full-size kitchens 2020
The latest trends in modern full size kitchens: there are styles, colors and features to consider. Up next, we will be showing you pictures of incredibly inspiring full size kitchens.
We recommend you read the following article that talks about this type of kitchens for small spaces:
Full size kitchens seem to be the type of kitchens that are most popular and, in fact, this kind of kitchen is the one that interior decoration firms and design stores (that sell furniture) bet on.
This kind of kitchens can have a very varied style. However, if you want to achieve a kitchen in style, there's no better way than to choose  full size modern kitchen designs, which we will be showing you up next. Keep reading if you want to know more ideas, tips, trends and, above all, if you want us to explain them.
Full size modern kitchens

The modern full size kitchens are characterized by not only having a current design and certain elements that will allow us to modernize our kitchen as much as possible. Striking tones, minimalist designs, functionality of systems and other concepts are important in this type of kitchen but, much more so is being able to take advantage of the space we have, to the point of being able to say that a full size kitchen can turn out to be a more functional and modern space.
Anyway, modern full size kitchens can also be a great idea for bigger spaces, so that thanks to all that allows us to save in square meters, we can take advantage to place, for example, a central island, which is currently a trend, and that you probably have seen in many of the suggestion that have been given precisely for this type of kitchens.
We can see below some ideas for modern full size kitchens and with this we can explain better how you can make the most of this space. Let's take advantage of the space, but also let's save time when cooking and cleaning the kitchen with these models.
Contemporary full size kitchens: small spaces
Let's start thinking of the modern full size kitchens as a tool to be able to have a kitchen equipped with everything necessary and that we are going to place in a small space. Just what we've told you before. Do you think it is impossible?
In Ikea we can find clear examples of what we've just explained. A full size kitchen allows a refrigerator, a hob, oven and vitro ceramic to be placed on a single wall, without forgetting the shelves or extractor hood.
The good thing about this store is that you can design your own kitchens depending on the space you have and you can always count on an extra space for a dining area or place a kitchen stool on the wall in order to have more space.
Contemporary full size kitchens: colors
Another thing to take into account regarding the design of the modern full size kitchen is the use of colors. For years we have seen how modern full size kitchens have been  characterized by their striking colors, such as red or black, but it should be added that white is still a color that is steadily popular among the different trends.
If you look at the picture above, we have an Ikea kitchen, all in white but with details of other shades so you can take a break from the monotony. Thus, the cabinets are presented in different colors, such as brown with see through doors and with a black countertop.
It is important that you bear in mind that you will not only find closed kitchens, you can also choose to have affantastic window so that people are under the impression that the space is bigger and the edges have been blurred.
Contemporary and large kitchens
Full size kitchens are also a sensational option for those people that have a large space. As you can imagine, one of the great differences that becomes apparent with this type of kitchen is that you have more storage possibilities. In fact, may choose to include more cabinets, drawers and shelves.
Meanwhile, the appliances can actually have other types of larger measures. Do not forget to consider including a central island as well. The islands can be a sensational option, not only as another decorative element but also as space for cooking, it can be an extra table, a fantastic kitchen stool or something we can add to the kitchen.
Another aspect that is becoming a trend in kitchen designs with a lot of space is creating common environments, kitchen or living room/kitchen. It is worth considering it as another idea for your full size kitchen.
Contemporary kitchens: materials
If you look at materials, melamine and laminae of wood same as those materials of ash have become trendy for this type of kitchens, although we can find designs that use materials that are currently becoming a trend again.
This would be the case of marble, which became so popular in the past and that it is still possible to find as a current design for full size kitchens.
Contemporary full size kitchens: styles
What about styles? We are talking about kitchens that are modern but this does not mean that other classic styles are not an option. We can always find renewed versions of those.
The rustic style is one of the decoration trends that never goes unnoticed nor out of style. It will always will continue having that wooden effect that sends that natural and welcoming, cozy vibe. What is going to vary in this case is the combination of the furniture, the design, the materials used and the color shades.
Even so, the rustic style competes today with kitchens that are more reminiscent of minimalism, where everything is firm and with clear lines, with functional furniture and where it's been proven that less is always more.
Pictures of contemporary full size kitchens
We leave these photos of modern kitchens. Surely one of these will inspire you to look for the kitchen of your dreams. You will see how there are very curious and original styles, others that come closer to the classic but with modern details and colors, which is a design that can always catch your eye:
Articles you might find interesting:
If you are looking for more information about kitchens and their decoration or the types of kitchen you can find in the market, we leave these other related articles that you will surely find interesting.