Have you ever dreamed of having the perfect kitchen? In this article we bring you the latest trends related to Ikea kitchens, which are often an inspiration that can help us keep dreaming and yet help us create the kitchen of our dreams quite easily at our own place, regardless of the space we might have or the color we like best.
Stay with us and keep reading the full Ikea catalog 2021
IKEA Kitchens: why are they so successful?
For those people that really like cooking and eating, the kitchen is one of the most important areas of the house, as you can imagine. This isn't just a a place of passage where people simply grab some food, not in the least! The kitchen is a place full of magic where people get to create, where people get to combine flavours and textures, where different dishes are created for each and everyone of the guests and family members that come visit.
This is why today we'd like to share with you all those dreamy kitchens that could definitely be yours, with the proper space.
The best thing is that you can create your own kitchens, with your personal touch depending on what you like, the decorative style, the space you have at home, the stuff you want to add… So let's create something together!
Ikea kitchens are defined as functional, with simple designs and affordable materials, which also allows people to find a cheaper kitchen to own.
Having said that, and as you might recall, you can build the kitchen at home or you can hire a specialized staff of Ikea, so that you have everything ready at home.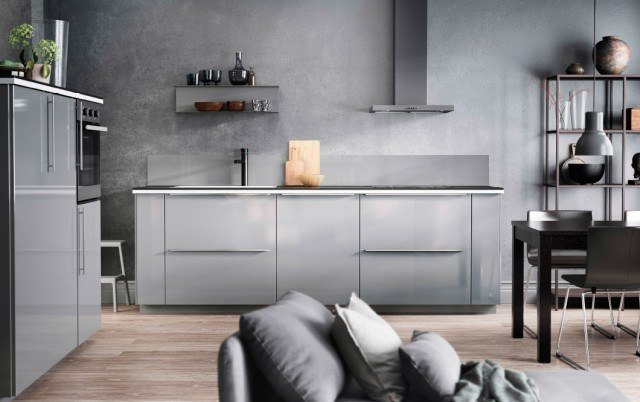 At the same time, there are kitchens, like the ones in this article, that have different colors depending on how big or small the space actually is, which is a relevant factor when it comes to finding out how to create the kitchen of your dreams.
Ikea kitchen catalog 2021
This Ikea kitchen catalog 2021 will be in force until the month of July, 2021, which actually means that there are many other surprises awaiting us.
In this catalog you are going to be able to get to know which are the Ikea kitchens for the different sections of the very same sections: designs, colors, shape, orgaization or household appliances. Details that, even if some people might think are crucial, should go unnotice in order to achieve the perfect kitchen.
Every time people see the new Ikea kitchens, they always wonder why they don't have a bigger one because they are awfully pretty. However, as we will see in the following sections, there are Ikea kitchen desings for small rooms that we believe can make you fall in love.
The best thing is that this year we will find a vintage design but with a certain touch that makes this design quite funtional, comfortable and beautiful.
There is also a very important section related to organizing the kitchen, from all the kitchen utensils up to the culinary details that will make cooking quite an enjoyable activity.
In this last section of the catalog, we will be showing you the latest trends that have been recently launched, such as this kitchen in a light brown color, which is the perfect color for this upcoming season.
At the same time, an element we should highlight regarding ikea kitchen furniture 2021 is the color black, which will have more protagonism than in previous years. Thus, you will encounter furniture in dark shades that won't go unnoticed.
Another element we should highlight is the possibility of acquiring wireless LED doors, which is a different, shoking option for our kitchen, which will result in a kitchen full of light.
Up next, we will be showing you some Ikea kitchen designs, first the small Ikea kitchens and, afterwards, Ikea kitchens separated by colors among them, so you can study every option:
Small Ikea kitchens
It is well known that we have many specific articles related to small kitchens, where we talk about furniture and how to make the most out of that furniture but, we also wanted to take this opportunity to show you some small IKEA kitchens designs that might be useful and inspiring.
Small kitchens can be cozy as well as irresistible, the only thing you have to do is try to find information and photograhs in order to find ideal furniture for the space you have.
Even thoough it has always been said that it is better to choose white colors in order to create a sense of breadth, those people that want black kitchens for a small area can be reassured that Ikea will make it possible.
We will not unveil anything else regarding this matter, but if you want to keep reading about small kitchens we recommend these two articles (just click on the name of the article you are interested in): "small kitchens" y "small full kitchens".
White IKEA kitchens
One of the most desired, wanted kitchens for any household are white kitchens. One of the biggest cons is that you can spot dirt easier than if it was a dark kitchen. If the kitchen is white, the light is reflected and the kitchen looks bigger. Hence, it is always something to consider when it comes to small or bigger kitchens.
As you can see in the image, in order to promote that natural and agreable sensation, wooden elements have been added to the counters or the different sections on the left.
We also wanted to share with you another design that will help you realize that the designs can be absolutely different at the same store. However, for those that are not fully convinced regarding white kitchens, bear in mind that you can always combine it with other colors.
Red IKEA kitchens
IKEA has two types of red kitchens, with a bright shade or a matt shade.
It is important to make this decision first hand, not only because of the range of red but also because of the effect this color will have regarding the kitchen.
If your kitchen is small, you can take a look at this photos and learn how you can better combine it with white furniture, so it appears to be less small, as well as a balance between color and intensity without the kitchen loosing vitality.
Wooden IKEA kitchens
Kitchens in wooden shades, being those colors of a natural or chocolate shade, are one of the most popular and desired ones, since they remind us of another time and other designs. For this occasion, the kitchen that appears in the photo above is in a chocolate shade with some rustic details but clearly modern.
In many of the previous images, we have seen kitchens with a strong rustic style, in light wooden shades, which actually makes people believe that they are looking at wood grain.
In this image, we can find a wooden kitchen design but with an industrial style, thanks to the touch that the metallic extractor fan adds to the overall picture. The metallic extractor fan is in the shape of a tube. The island and the kitchen appliances also have areas in metallic.
Gray IKEA kitchens
Gray kitchens are quite popular in Ikea and tend to have a light shade. However, we can't forget about the fact that the kitchen needs good natural light so the color gray can go well with a small kitchen.
If you truly like the color gray, you can always combine it with white furniture so the light can reflect more and make the kitchen look bigger. You can keep putting the kitchen details in black, like you see in the image above: counter, appliances, kitchen, among others.
Another option we should take into account, in particular when we are talking about small kitchens, is to combine the furniture with shelves or to choose furniture made out of glasswork. In this sense, it looks like the space is not that packed and it is actually wide.
Yellow IKEA kitchens
We've seen before kitchens in brown chocolate shades: they are darker and better when it comes to large spaces.
In this particular case, we see how we can include a little sense of vitality in the kitchen through furniture in yellow shades that can completely change the dinamic and the sense of breadth.
Green IKEA kitchens
Moreover, the photos we have been showing you can be truly inspirational. In fact, haven't you already imagined each door in a different color, taking into account that you can change a bicolored kitchen any moment?
Choosing to include a section of furniture in green shades is simply wonderful. Having said that, you should pay attention when it comes to properly include other elements while maintaining the harmony and balance of your house. Ikea suggests curtains or blinds in different shades of green, such as tropical or plants.
Ikea kitchens: 25 designs
Up next, in this section you can see more Ikea kitchen designs that you will find in your nearest ika shop or on their website, where Ikea let's you pick the kitchen you like the most, so you can later on adapt it to your household.
You just have to click on the following image and our kitchen gallery will appear in a magazine format. You can pass the photos one by one:
Create the design of your kitchen online

Truth be told, it couldn't be easier:
So you can have more or less an idea of how your Ikea kitchen is going to look like. Ikea has a kitchen planner and you will be able to design the kitchen that can better adapt to the space you have.
You will also get to see the 3D simulation of your Ikea kitchen, so you can try a thousand combinations with furniture and kitchen appliances, until you find the perfect one.
You have to save the project in the server and just have to open it when you go to the Ikea store.
The Ikea staff will verify your design and give you an estimated budget regarding your project, which will last up to a month.
Guidance and assitance service

There is a practical system in Ikea, before assembling the furniture a staff member of Ikea verifies that you've messured correctly at home and gives you advice related to where should you or shouldn't you place a household appliance (you might have thought of a design and a place where you can't put the appliance).
This staff member verifies that all the elements of the kitchen can be correctly placed or if, on the contrary, a change in the distribution is in order. All this because the installation of your Ikea kitchen has to be perfect.
Ikea appliances

Ikea wants to make things easier for those people that would like to be able to buy the whole kitchen in the same place. This is why you will be able to buy your own appliances in Ikea if you'd like, and also make sure they blend in with the rest of the furniture.

For instance, you can find refrigerators, freezers, ovens, microwaves, extractor fan, dishwasher, and so on.
Ikea kitchen catalog: past years

In order to see the full catalog, you just have to click on the following image and you will be able to see the latest trends regarding kitchens for 2021.
Up next we are goign to show you a section related to Ikea kitchen catalog 2016. The only thing you have to do in order to take a look is click on the word "Gallery" and you will find new and fun surprises that await for this upcoming year, regarding kitchens and decoration.
You have the opportunity to create something different, unique and just for you.
Other Ikea kitchen designs:

It is well known that Ikea changes its kitchens every year. We believe there is always something that can come up thanks to previous decorations, which actually are a source of knowledge that can be an inspiration when it comes to creating a new kitchen.
You don't have to leave the past behind, you can update it and renew it in order to achieve something completely new and unique.
If you don't believe us, you can see for yourself how the elements that were once fashionable come back around today.
You can find more information in the Ikea website.